I was sent some delicious sounding recipes which have been developed by the TV chef and author Rachel Allen for the new Kerrygold Softer Block Butter. I haven't tried this butter yet but it sounds like a fantastic idea to me -  especially if it means not having to deal with rock hard blocks of butter from the fridge! Kerrygold Softer Block Butter has been developed to be softer to use, all by natural means, partly because of the type of cream used but also because it's been gently heated and cooled before churning. It can be used in baking but also spread straight onto bread, toast, muffins etc.
There are three Rachel Allen recipes to share with you - an Almond Brittle Cake, Rillettes of Fresh and Smoked Salmon with Melba Toast and Cucumber Pickle, and Spinach and Mushroom Pancakes.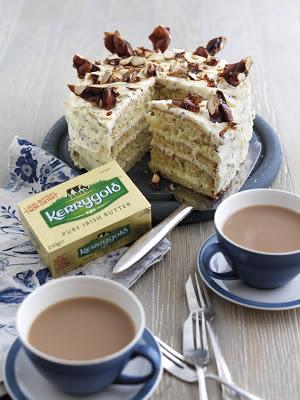 Rachel Allen Almond Brittle Cake
Ingredients

150g (5oz) Kerrygold block butter, now softer

175g (6oz) caster sugar

3 large eggs, beaten

150g (5oz) self-raising flour

1 tsp baking powder

75g (3oz) ground almonds

2 tsp milk
Almond Brittle

vegetable oil, for greasing

100g (4oz) granulated sugar

100g (4oz) whole almonds (unskinned)
Almond Butter Icing
225g (8oz) Kerrygold block butter, now softer

450g (1lb) icing sugar

½ tsp pure vanilla extract
2 x 18cm (7 inch) deep sandwich tins or cake tins
Method
Preheat the oven to 190°C, fan oven 170°C, Gas Mark 5. Grease the cake tins with a little Kerrygold butter and line the bases with baking paper or greaseproof paper.

Beat the Kerrygold butter and sugar together until light and creamy, then gradually add the eggs, beating well between each addition. Sieve the flour and baking powder together, then add to the creamed mixture with the ground almonds. Stir in the milk.

Divide equally between the prepared tins. Bake for 22-25 minutes.

While the cakes are cooking, make the almond brittle. First, grease a baking sheet with a little vegetable oil. Next, combine the sugar and almonds in a heavy saucepan. Put over a medium-low heat until the sugar turns caramel colour, carefully rotating the pan until the almonds are covered – this will only take a few minutes. Very carefully pour the mixture onto the baking sheet. Cool. (TAKE GREAT CARE when making caramel and NEVER touch it – it reaches an extremely high temperature. Keep a watchful eye on the pan as you make it – don't just leave it to cook).

Remove the cakes from the oven and cool in the tins for a few minutes, then turn out and cool on a wire rack.

To make the icing, beat the Kerrygold butter until soft, then gradually beat in the icing sugar, using a hand-held electric mixer. Beat in the vanilla extract. Chop half the cooled almond brittle finely and stir it into the icing.

To assemble, spilt each cake in half. Spread with butter icing, then sandwich the two cakes together with more icing. Spread the rest of the icing around the top and sides of the cake.

Break off some shards of almond brittle and arrange on top of the cake. Coarsely chop the rest and sprinkle over the top of the cake.
Tip:
Use whole unskinned hazelnuts instead of almonds for the brittle.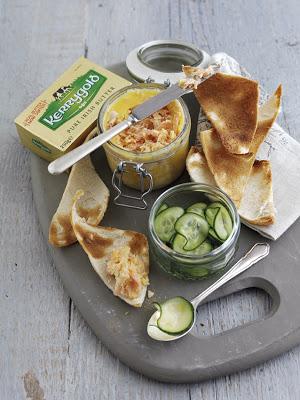 Rachel Allen Rillettes of Fresh & Smoked Salmon with Melba Toast and Cucumber Pickle
Ingredients
75g (3oz) Kerrygold block butter, now softer
200g (7oz) smoked wild or organic Irish salmon
1 tsp water
200g (7oz) skinless fresh salmon fillet
Freshly ground pepper and nutmeg
Lemon juice, to taste
6 slices medium-cut white bread from a large sliced loaf
Method
Melt 15g (1/2oz) Kerrygold butter in a saucepan. Add the smoked salmon and 1 tsp of water. Cover and cook for 3-4 minutes, or until it no longer looks opaque. Cool and refrigerate until cold.

At the same time, put the fresh salmon fillet into a saucepan and cover with water. Heat until almost boiling, then turn off the heat and let the salmon poach in the hot water for 5 minutes. Remove, cool and refrigerate until cold.

When cold, use two forks to shred both the fresh and smoked salmon – you are aiming for a coarse, slightly stringy texture.

Beat the remaining Kerrygold butter in a bowl, then add the salmon and mix together, still using a fork (do not use a food processor). Season with pepper and nutmeg. Taste and add lemon juice as necessary. Cover and chill.

Just before serving, make the Melba toast. Toast the bread on both sides. Cut the crusts off immediately and then split in half to create very thin slices. Scrape off any soft crumb, cut into triangles and put back under the grill, untoasted side up for a few seconds until the edges curl up. Serve with the rillettes.
Tip:
Salmon rillettes will keep perfectly in the refrigerator for 5-6 days provided they are sealed with clarified butter. To make clarified butter, melt 75g (3oz) Kerrygold butter gently in a saucepan. Allow it to stand for a few minutes, and then skim off the crusty white layer of salt particles from the top. Underneath this crust there is clear liquid butter, which is the clarified butter. The milky liquid at the bottom can be discarded or used in a white sauce. Pack the salmon rillettes into individual pots or a larger pottery terrine and level the surface. Carefully pour the clarified butter over the top. Chill to form a sealed layer.
Cucumber Pickle
Calories per serving: 35Fat per serving: 0
Serves
6
Ingredients
1 cucumber, thinly sliced (unpeeled)

1 small onion, thinly sliced

25g (1oz) caster sugar

1 tsp salt

200ml (7fl oz) cider vinegar
Method 
Combine the cucumber and onion sliced in a bowl (not a metal one). Add the sugar, salt and vinegar. 

Place in a tightly covered container in the refrigerator and leave for at least 4-5 hours or overnight before using. 
Tip:
Keeps well for up to a week in the refrigerator.



Spinach and Mushroom Pancakes




Pancake Batter




15g (1/2oz) Kerrygold block butter, now softer

150g (5oz) plain flour

pinch of salt

200ml (7fl oz) milk

2 eggs

2 tablespoons water




Filling




25g (1oz) Kerrygold block butter, now softer

1 onion, finely chopped

400g (14oz) baby spinach

225g (8oz) mushrooms, sliced

100ml (4fl oz) single cream

1 teaspoon freshly chopped parsley

squeeze of lemon juice

salt and freshly ground pepper

chopped fresh chives, to garnish (optional)




Method




For the pancake batter, melt the Kerrygold butter over a low heat. Put the flour, salt, milk, eggs and water into a mixing bowl and beat together with a hand whisk to make a smooth batter. Whisk in the melted Kerrygold butter and leave to rest for 20-30 minutes.

For the filling, melt the Kerrygold butter in a heavy saucepan until it foams. Add the onion, then cover and sweat over a gentle heat for 5-10 minutes, until soft but not coloured.

Meanwhile, cook the spinach in a tiny amount of water in a large lidded saucepan, until the leaves wilt (about 3-4 minutes). Drain, then squeeze out the excess liquid with the back of a spoon.

Add the mushrooms to the onion and cook for a few more minutes, then stir in the cream, parsley and spinach. Season with lemon juice, salt and pepper.

Cook ladlefuls of the pancake batter in a non-stick frying pan until set on the surface. Turn over to cook the other side. Use to make 4 large or 8 small pancakes.

Lay the pancakes on warm plates and spoon the filling in the middle. Serve, sprinkled with chopped chives.




Tip:

Use the filling as a sauce for pasta - simply stir it though your favorite cooked pasta shapes.


I hope you enjoy the recipes! Kerrygold Softer Block Butter is available from Asda, Sainsburys, Tesco, Morrisons, Co-op and Waitrose with a rrp. of £1.60.