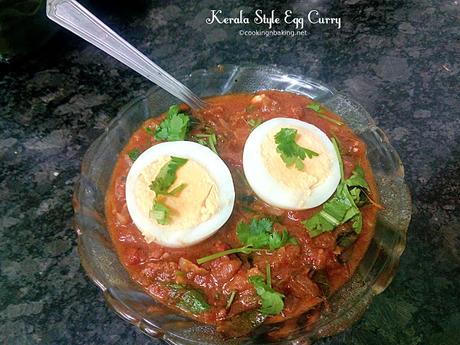 Kerala Style Spicy Egg Curry
I was tired yesterday evening. The day was kind of not-so-good for me. I was dragging myself to the kitchen. I did not feel like cooking at all. I always do this- when I feel bad, I take a big slab of chocolate and watch some good movie eating the bar at one go. It just eats away my stress and worry.
I went home with a bar chocolate actually. But then when I was gazing at the shelf and wandering what to do, my son came to me running and said "mom I need egg curry and dosha!" How can you say no to a cute 4 year old. He then hugged me and gave me a kiss and said, how long will you take to make egg curry! My bad mood just vanished and I put on my apron to make this yummy egg curry which my little one enjoyed. I guess blogging is a wonderful stress buster (I actually clicked pics despite all the mood swings :) )

Heat a kadai with oil.
Fry curry leaves until crisp.
Add crushed ginger-garlic-greenchilly paste.
Fry them well. add fine chopped onions.
Add salt and fry well till onion caramelizes.
Add tomatoes and cook for few minutes.

Add chilly powder, coriander powder and water.
Let the gravy boil for 2 mins.
Add hard boiled eggs and coriander leaves.
Cover the gravy and simmer the flame and let it cook for 2 more mins.
Transfer to serving bowl and some more coriander leaves.
Enjoy with roti.