Today's post is a fun one.  A fashion one!  Oh yeah.
I was asked by @kendrathornton, Travel Expert, TV Personality and PR businesswoman extraordinaire to participate in her NYC Night Out Challenge!  She's been featured on shows like Tyra Banks and Nate Berkus.
Here's the skinny on "Kendra's Night Out" Challenge...
...In a few weeks, Kendra, is headed to NYC for a fun couple of days with friends.  This trip includes a night out wining and dining at the Dream New York Hotel and Serafina's for some authentic Italian pizza and pasta, yum.  Oh, and let's not forget the sightseeing!...  PS - check out the Dream's sightseeing day tours here.
Sounds like a fun trip, right?!  Now, the challenge comes in here and where I come in.  Hence, the challenge...  As a mom of 3, Kendra wants to ensure she is comfortable yet, looks trendy and fashionable and doesn't look like a "tourist".
Kendra's going to look and feel absolutely fabulous and then some!  Plus, I want her to be in the "top trends" by looking and feeling comfortable in what I've selected for her to wear while she's enjoying her days and nights in the "the City that never sleeps"...!  Are you with me?  Here we go!
I chose 4 different looks for the Challenge: 2 day and 2 night.  Also, I went with versatile pieces that are interchangeable and can be layered as well (depending on weather).  You know a girl has to be prepared for the ever changing weather that the "polar vortex" brings... 
Some of the thoughts I had as I put the outfits together...
Each outfit I put together has one or several current fashion trends in the look.  Let's see if you can "spot" them.  Haha!  No pun intended here.  Sorry, couldn't resist.  For one, a girl can never go wrong with leopard accents and therefore, I included a pair of Tori Burch flats and a large scarf.  And at night, I figured Kendra would glam it up, to the nine's!!!  For jewelry I included the "staples" for day and the "statement" pieces for night.  A criss-cross fringe bag for the day - very "in" right now.  Plus, when traveling and sightseeing criss-cross is best.
One day look is colorful, trendy and "pops", yet, not overpowering.  The other look is a neutral color palette with a layered look, yet trendy and fashionable with the different textures.  Now we've got the flip-side with night time looks.  The night time looks definitely make a statement and are pulled from the "top" fashion trends.  I went with a little spin on color-blocking for one look.  It's a patterned black and white jumpsuit with a neon yellow blazer with textured seams. The look has very bold "spiked" statement jewelry pieces, several.  There is 2 shoe choices because I just couldn't decide!  The "other" outfit is a pair of boot-cut jeans with a floral silk blouse in brown and creme paired with a textured grey/silver blazer paired with geometric statement necklace and gold chain tassle earrings a black patent leather Louboutin's.
I have to say the jumpsuit, neon yellow blazer, and "spike's" is my favorite outfit of the four.  Incredibly comfortable, yet, simplistic - thus making a statement all on it's own.
You be the judge.  Which one is your favorite look, what would you wear...?!  And can you "spot" the fashion trends I included in each look...?
What do you think Kendra will choose...?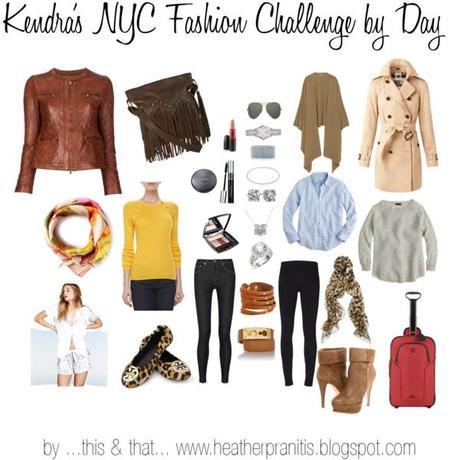 Kendra's NYC Fashion Challenge Day Look by heatherpranitis featuring Fendi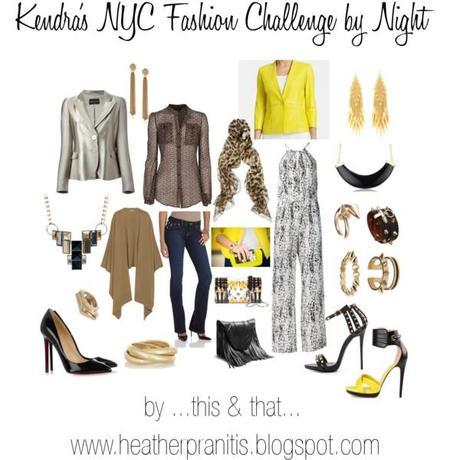 Kendra NYC Fashion Challenge by Night by heatherpranitis featuring a black necklace