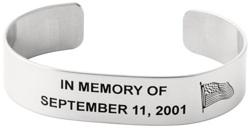 Today, Ken Griffey Jr. and Mike Piazza will be inducted into the Baseball Hall of Fame at Cooperstown. Both are highly deserving of the honor.
Griffey made it on the first ballot, getting over 99% of the vote, the highest in history. (Three voters left him off. Lord knows why.)
Griffey has a glowing resume, one that I will not rehash here. But Junior will be wearing something special as he gives his speech.
Griffey has a special relationship with the family of a firefighter who gave his life on September 11, 2001. Kenny Marino was one of 343 of New York's Bravest who perished that day, and Griffey was his idol. Shortly after 9/11, the Cincinnati Reds received an email from Katrina Marino, Kenny's widow, explaining who much Griffey was her husband's idol, and how much it would mean to her family if Griffey could hit home run that night against the Phillies.
He did just that, and it led to a bond between Junior and the Marino family. Here's more about it from 2004. The Marino family also has a website, where you can read more about Kenny, his legacy, and about the family's relationship with Ken Griffey: www.kennymarino.com.
As Griffey takes the podium today, he will be wearing a bracelet with Kenny's name on it. It will have been supplied by my good friend Vicki Chapman Peaslee of Bracelets For America. I got to know Vicki shortly after the 9/11 attacks, when she started the company. She makes bracelets in memory of the 9/11 victims (which she has since expanded for many other types of remembrances, such as for those who gave their lives in the wars in Iraq and Afghanistan). Every day I wear a bracelet she gave me in memory of my dear friend Joyce Carpeneto. It has become a part of me, and I can't imagine not wearing it.
Ken Griffey is without question one of the classier players ever to wear an MLB uniform. It's his special day today, and I'm sure his biggest fan, a hero named Kenny Marino, will be looking down and smiling with Junior today.