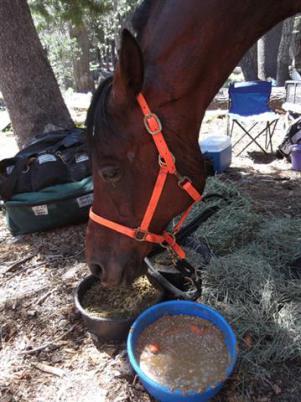 Elk Grove Stable Mix
Keeping our horses hydrated
January 2014, Karen Chaton
I ran across this interesting article on the U of Mn website awhile ago and thought it was interesting enough to share:
Voluntary Water Intake in Horses When Fed a Dry versus Mash Grain in Two Different Seasons
I don't often change my horse's feed around, once I find something that works really well I tend to stick with it.  Fortunately back in 2010 I learned about Elk Grove Milling Stable Mix and got the horses started on it prior to going on the 2011 XP (8 week long 2,040 mile cross country ride).  It turned out to be one of the best choices I made about how I managed my horses on that trip.  More than three full years later the horses are still thriving with this feed and has helped me to keep them well hydrated and healthy with all of the traveling and competing that we do.
That research article kind of backs that up:
Horses consuming mash drank equal to or more water than horses on the dry grain, in addition to the water they consumed in their feed.
I kind of already knew that though, after having figured it out with my own horses.  I go through a lot of water when I go to rides.  I knew that I was still using the same amount of water for the horses to drink but in addition to that I was now using quite a lot more making wet mashes for the horses with the Stable Mix.  Talk about a win-win situation (except for the having to haul more water part for me) for my horses.
Now is a good time to bring this topic up because it is winter for a lot of us and this is the time of year that we need to encourage our horses to drink more.  I still give my horses daily Stable Mix mashes with a little salt added sometimes.  They also have tank heaters in their water troughs which helps to keep them drinking.
I know I'm really lucky to have this feed available (50 pound bags and 250 pound barrels).  Click here to see a list of retailers for Stable Mix products.
Recently, I've been using a new Sport Horse blend that contains biotin and a bit more fat in it, as well as G&C.  I mainly reserve that for feeding at rides, or occasionally at home.  The majority of the time I feed the regular Stable Mix with G&C.  About the G&C (glucosamine and chondroitin) – late last year they doubled the amount in Stable Mix so only 6 pounds per day needs to be feed to get a full dose (Stable Mix is a complete feed).
I keep a supply of Stable Mix in my garage so that when the weather is freezing I can bring in buckets from the barn and use warm water to make the horses a warm mash.  By using warm water, the Stable Mix pellets have turned into a mash by the time I get out to the barn.  The horses really enjoy their warm mashes, and I feel better knowing that I'm providing additional hydration for them during the cold winter months.