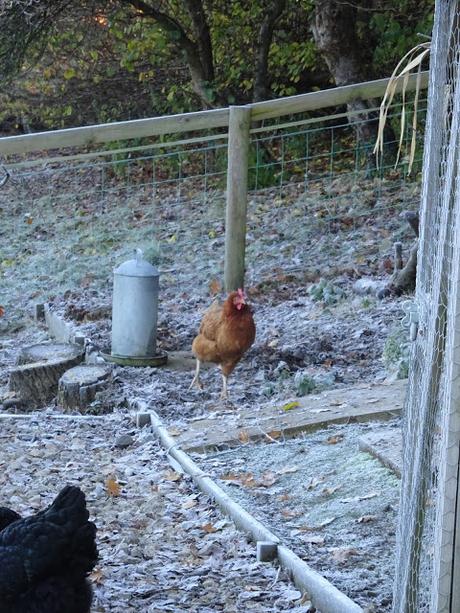 I've been a bit of an intermittent blogger this week, sorry but I've been busy just keeping things going. 
Busy with just the day to day of living,  of visiting family, of family visiting me ... but mostly trying to keep things thawed out so that the things that have to live outdoors on our property have water to drink.  By things I mean our chickens, the resident sheep and the wild birds ... thank goodness that for now we have no other animal demands.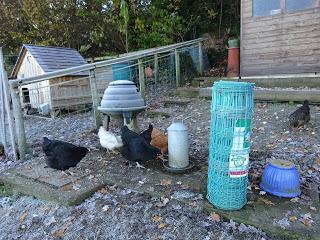 It's been so cold that I have needed to go over to the drinkers during the course of the day to refill them with warm water as once again they have iced up after the mornings defrosting.  I  keep a watering can near the house and fill it from the hot tap so that each time I let the dogs out for a toilet break I can check that everyone has thawed water available to drink.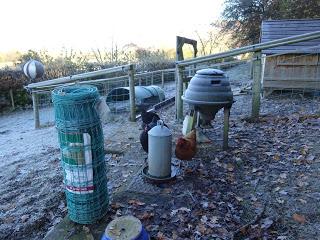 They appreciate it, and drink their fill while the water is still warm.
Someone asked me the other day if chickens drink a lot of water, and the answer is yes.  Eggs are composed of lots of water and the laying girls especially need to drink even more than they need to eat, but all of them appreciate some warming water on these cold and frosty days.
Yesterday when we got back from Mum's with my younger son Jason, everything was green again.  All nicely thawed out,  the sheep were making the most of having lots of grass to nibble at and I went to bed thinking that I would have a morning off from the hot water rounds,  but this morning the hard white frost was back and once again it was -3 inside the polytunnel and no doubt a degree or so colder outside, so I donned scarves, extra socks and gloves and did the rounds.
Now it's time to do the rounds again before me and Jason head for an afternoon at the cinema, not a bad way to spend a frosty December day, it's a good way to keep me going   :-)
Sue xx