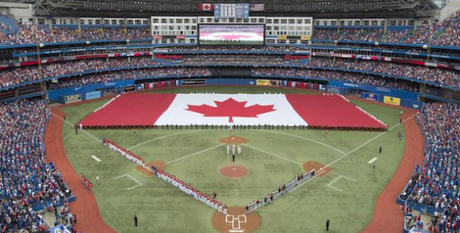 It's Friday, September 12 and the Toronto Blue Jays have 17 games remaining on the schedule, including tonight's series opener versus AL East rival Tampa Bay.
So… what does this mean? Well, the Jays are currently 10.5 games behind the Baltimore Orioles for the AL East lead – but they are only 3.5 games behind in the race for the AL's 2nd Wild Card spot – and that's not insurmountable.
Here's how the rest of the season looks for the Jays

vs. Rays
vs. Rays
vs. Rays

@Orioles
@Orioles
@Orioles

@NY Yankees
@NY Yankees
@NY Yankees
@NY Yankees

vs. Mariners
vs. Mariners
vs. Mariners
vs. Mariners

vs. Orioles
vs. Orioles
vs. Orioles
13 of the 17 games are against the AL East.
14 of the 17 games are against teams that Toronto is either chasing or fighting off in the playoff race.
10 of the 17 games are in Toronto.
Toronto has a 4-3 record in Baltimore this season.
Toronto has a 2-4 record at Yankee Stadium this season.
The Blue Jays likely need to win at least 13 of these 17 games – and get some help – to make the playoffs.
Also… get ready because if Toronto wins 8 of those first 10 games we're going to have some VERY exciting baseball when the Jays come back home.
I was texting with Brian last night and without hesitation I acknowledged that the Mariners series could be the most important series in the last 20 years for this team. And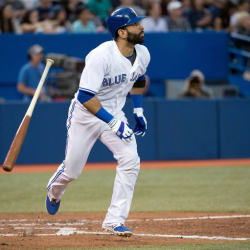 maybe I'm getting ahead of myself thinking about it. Maybe we all are. But that's what fans do.
We look at Jose Bautista's hot streak and tell ourselves that he can put this team on his back if he needs to. We've seen him do it before. And we think about Dioner Navarro and Edwin and Adam Lind supporting him so he doesn't have to. We get excited with Jose Reyes and Kevin Pillar and Anthony Gose and Danny Valencia contribute as they have been doing.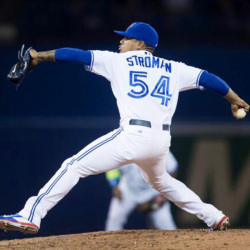 We look at the starters and their recent ability to go deeper into games without giving up the big bad early inning and giving the team a chance to win these ball games. We drool over Marcus Stroman and what he's doing. We nod with approval when Dickey and Buehrle perform like the veterans they are. We smile when the rested bullpen comes in and gets the job done.
And with every win we tell ourselves (and each other) that the Blue Jays chance at a playoff spot is improving.
Right now ESPN.com has the Blue Jays sitting with a 5.5% chance. But if they take care of business and give themselves a chance against Seattle… that 5.5% could get much higher.
And as a fan who has been waiting 21 years to see these meaningful games and then the playoffs that come as the payoff… I'll take that chance.