Bakerz Dozen Show in Portland, Oregon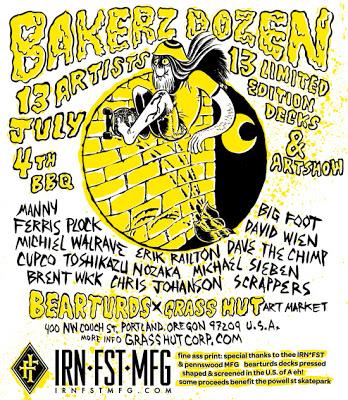 4th of July 2013
Friends!
Super stoked to be in this show in
Portland, Oregon
, with
Chris Johanson
,
Michael Sieben
,
Big Foot
, and a bunch of other rad folk.
Super stoked to make a graphic for
Bwana's "Bearturd
" board company. Super stoked that these boards are made in America by people who know what a skateboard is!
And super stoked that 10% of sales money from sales goes towards concrete for the Powell Street skate park!!!
Yes!
As well as the decks, they'll also be showing the original art, and a bunch of other nice stuff from all these amazing artists. And grilling tofu for the barefoot hippies. YOU CAN'T LOSE!
Dave

Quote
"You don't quit skating because you get old - you get old because you quit skating"
Jay Adams