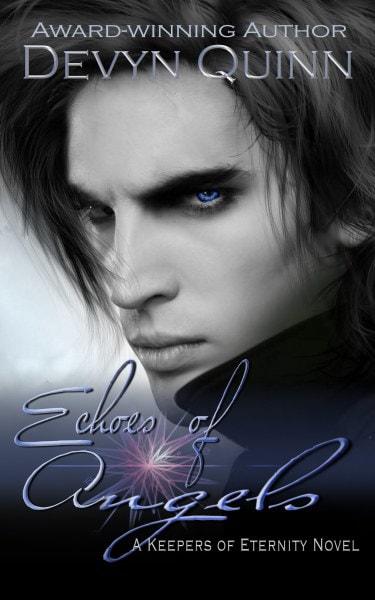 Echoes of Angels
Keepers of Eternity Book 1
by Devyn Quinn
Genre: Paranormal Romance

Echoes of Angels
Keepers of Eternity Book 1
by Devyn Quinn
Genre: Paranormal Romance
If you like dark paranormal romance, you'll love the Keepers of Eternity series by Devyn Quinn!
"This is an exciting, atmospheric story. . . . A dark fantasy with tortured characters and dramatic events, Echoes of Angels is a very promising start to a new series. 4½ stars." —Romantic Times
With her life in shambles and nowhere to turn, Julienne Blackthorne has no choice but to accept her grandmother's offer to return to her ancestral home—a home Julienne's mother fled in fear more than twenty years ago. What she finds there is a world so macabre it haunts her senses and fills her with dread. And the darkly compelling Morgan Saint-Evanston, whose mysterious pull haunts her in more sensual ways.
Morgan was once the most feared mercenary in a sinister realm and was destined to become the leader of his people—a duty he abandoned when his tormented soul drove him to seek exile in the mortal world. Tortured by his betrayal and the knowledge that those who dwell on the dark side will one day have their vengeance, he turns to the beautiful Julienne for one last moment of solace. Because the veils separating the worlds are about to open, and Morgan knows he must take the fight to the enemy before the forces of darkness unleash their unholy hell on mankind.
As Julienne surrenders to the undeniable passion that flares between them and Morgan prepares to confront a fate he cannot ignore, both will be plunged into a realm where human souls are open barter and even the power of love may not be enough to save them. 
**Only .99 Cents!**
Add to Goodreads
Amazon * B&N * Kobo

Looking back, she knew their marriage had been a damned union from the beginning. They met when she was seventeen and waiting tables in LA. She was looking for her big break in Hollywood. A minor agent, representing D-list clients, he'd promised to make her a star.
James had also introduced her to crack cocaine in a Singapore nightclub. He was already an addict; her modeling jobs supported his habit. She'd tried it to please him, believing she wouldn't get hooked if she used it sparingly. She was wrong. The drug turned her into a junkie, too. The night James slashed her face had been her second trip to the hospital in less than two months. Both times she'd nearly died, and both times she'd been fueled on the drug.
Bitter recriminations ricocheted through her mind. She always made bad decisions. James. The drugs. After years of struggling, her brief brush with fame was over.
As though reaching for a talisman, she slipped her hand back into her purse, brushing the tips of her fingers across a sheaf of letters she'd carried for months. The cloying scent of vanilla still clung to the pages.
Grandmother Anlese. Thank God for her letters. If nothing else, they proved someone in her family cared whether she lived or died.
The Blackthorne family had stepped back into her life after the attack. They had money, and the way they operated was like a well-oiled machine. Overnight, a cadre of attorneys appeared, sucking her back into the world of wealth and privilege her mother had fought so hard to escape.
A stint in rehab had followed her hospitalization.
Since admitting her own addiction, her life hadn't been pleasant or easy. Withdrawal meant rules. Rules meant structure. Structure meant recovery. Recovery meant continuation. Not an easy battle when she was utterly bankrupted by scandal and a pending divorce. Surviving hadn't ended the conflict over her weakened spirit. It would take time to regain a healthy balance.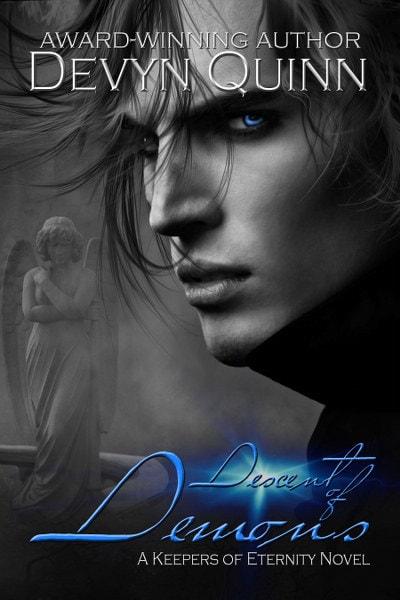 Descent of Demons
Keepers of Eternity Book 2"Devyn Quinn writes compelling characters, a chilling and gripping story, and a setting that is easily seen within your mind's eye." —Rogues and Romance Reviews

Left for dead in a hellish corner of the dark realm, Julienne Blackthorne refused to surrender, and through her own force of will and her love for one man she managed to survive and escape. But survival brings its own new hell when she makes a horrific discovery. A demonic sorcerer has begun a search for the forbidden Scrolls of Cachaen, ancient texts that will restore his waning magic and give him the power to take his final revenge on the man Julienne loves, Morgan Saint-Evanston.

In a desperate quest to save Morgan and stop the diabolical sorcerer from gaining control of the scrolls, Julienne will be forced to confront the most sinister powers of this dark world. And in a race against time that will determine the fate of all mankind, Julienne and Morgan will find themselves in a perilous battle against evil that will either condemn them to eternal misery . . . or grant them everlasting love.




**Only .99 Cents!**

Add to Goodreads
Amazon * B&N * Kobo


Julienne Blackthorne hung suspended in an endless void. Ensnared by the insidious webs of a dark, lingering nightmare, phantasmagoric images paraded constantly through her mind. Creating a twisted dreamscape, they stifled all reality, ushering her into a hellish world in which she comprehended she would ultimately die. The prolonged struggle to break free had drained her spirit and strength.
A slew of images ravaged her feverish brain as she mentally relived an actual terrifying experience. Through a veil of kaleidoscopic memories, she observed a glowing red pit. A being she believed to be Satan himself walked leisurely around it. He was a looming figure clothed head-to-foot in crimson robes. He seemed to be coming for her, his hands bearing down into her vision. His fingers, twisted into a claw, latched into her forehead with a viselike grip, digging sharp fingernails into her skin. A thousand splintering facets of agony spread through her as he ripped asunder the soft flesh of her face. Her blood flowed in rivulets, mingling with the sweat of her fear, stinging her eyes. She struggled to breathe, gasping as coppery slime assaulted her lips and she tasted her own blood. Fighting for air, she gagged when a crushing weight pounded into her chest. Like a giant spider's victim paralyzed by the bite, she felt she'd been pierced and seeded with a strange alien life form, a thing that would eat her up from the inside.
Suddenly, her nightmare shattered.
But the pain remained.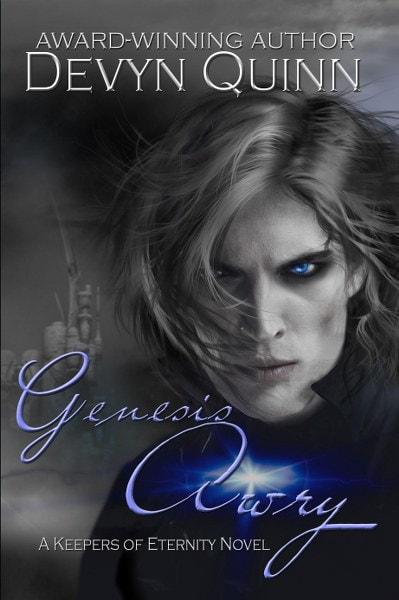 Genesis Awry
Keepers of Eternity Book 3
Since Julienne Blackthorne succumbed to the dark passion of the erotic and erratic Morgan Saint-Evanston, she's been forced to draw on her deepest strengths to survive the demonic realm of the otherworld and the treacherous existence of an immortal. But when Morgan obtains the Scrolls of Cachaen—said to be the keys controlling the forces of nature itself—it unleashes a deeply sinister beast from the astral realm who wields an unholy power capable of defying their efforts to destroy him.
Morgan knows that safeguarding the scrolls is his only hope for protecting Julienne and all of mankind, but the powerful and mystical scrolls are taking a debilitating toll on him, even as very mortal enemies scheme to control him for their own purposes. As he is stripped of the strength he needs to wage an epic war against the beast hell-bent on their destruction, he realizes he will have to turn to a dark magick for their salvation—one that may consume his soul. 
And as Morgan and Julienne struggle to defend themselves and the hard-fought love that fires them both, they will come face-to-face with a cruel fate that would turn their one hope for survival into the very thing that could lead to their ultimate destruction.
**Only .99 Cents!**
Add to Goodreads
Amazon * B&N * Kobo

Getting tangled up in his web was probably the worst mistake she'd ever made. The man—and was he really that at all? —wasn't sane, stable or even remotely human. He was, first and foremost, an assassin. Cold, calculating and utterly ruthless, he'd long ago mastered the art of delivering death. He'd stop at nothing to best an enemy. The casualties left in his wake were piled high.
Still, she was no innocent. Aware of the darkness he'd mantled himself in, she'd nevertheless chosen to walk at his side. He'd promised her immortality. Now it looked like he might possibly be able to hand her eternity. The power to accomplish that was within his reach.
Would he, she wondered, fall to the temptations of forbidden knowledge?
She dared not contemplate the answer.
Minute after long minute ticked by, stretching the silence to unbearable levels.
"Do you think you have the nerve to do it?" His question shattered the impasse brewing between them. His obsidian gaze was frozen, daring her to make the next move.
Julienne wavered. If only her blood didn't feel so hot and her skin as cold as ice. Her body temperature plunged from fire to arctic to searing again. Perspiration broke out on her skin and her clothes clung uncomfortably to her body. The scent of her own fear curdled in her nostrils. Since their return from Sclyd, a strange heaviness had settled into the atmosphere. Everyone in the household felt it.
And everyone was just as scared as she was.
"They've got to go." Her voice sounded hollow, strained. "Destroy those things, and we're off the hook. They never existed, and we never saw them."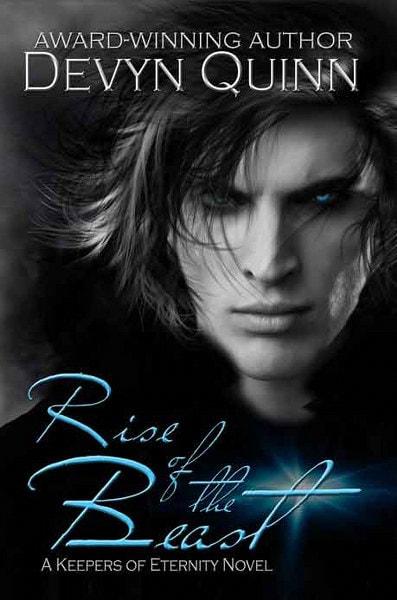 Rise of the Beast
Keepers of Eternity Book 4


Morgan Saint-Evanston has prevailed over every demented beast sprung from the otherworld, but now he finds himself tormented by an earthside foe who could destroy everything he's built in the mortal realm. Forced to turn to a magickal ally to preserve the sanctity of Blackthorne Manor and safeguard its secrets, he discovers that the bewitching creature's services come at a chilling price: the very part of his soul that harbors his humanity.

Julienne Blackthorne is bonded to Morgan by blood, but the emotional and erotic ties that bind them are fraying as his lost humanity sends him spiraling downward to the furthest extremes of darkness and depravity. As Julienne struggles to save the man she loves from utter and eternal ruin, she must delve into her own dark powers at the risk of forsaking her sanity.




As Morgan and Julienne steel themselves to do battle with his greatest inner demons and those who would deny him his legacy, they must confront the very real threat that his fragmented psyche will lead him to the edge of self-destruction—and the destruction of all they hold dear, both in this world and in their hearts.




**Only .99 Cents!**

Add to Goodreads
Amazon * B&N * Kobo
When the conjurer's circle was completed to his satisfaction, he reached for the blade sheathed at his side, and cut a slice in his right palm. Tipping his hand so that his blood would drip in the exact center, he began the litany of a summoning. "Ego voco audite, meus dico thee Djinn."
Before the final words left his lips, the small crimson pool morphed into animation, taking on a strange otherworldly radiance. A series of smokeless flames set to forming, growing higher and brighter with each passing moment. No heat emanated from the blaze. 
Throwing up a hand to shade his eyes from the brilliant radiance, Morgan backed away from the writhing mass. Peering between parted fingers he caught sight of an undulating figure gliding through the inferno. As quickly as it had appeared, the fire winked out.
The woman standing in the conjurer's circle was naked, but she was by no means unadorned. From the top of her head to the tip of her toes, her pale skin was tattooed; shades of blue, black, red, green and yellow all came together to form an elaborate design that only enhanced her exotic features. A fall of metallic purple hair cascaded over her shoulders, spilling a swirl of tresses down her back. Amber irises glowed with the intensity of the sun. Standing close to six feet tall, she was a brilliant beauty to behold.
Lowering his hand, Morgan eyed the familiar figure. "Yadira."
Hearing her name, the woman inside the conjurer's circle raised her eyes. At first her face was blank. It took a minute for recognition to spread across her features. "How dare you call upon me, you son of a three-legged hound."
Morgan winced. Judging by the depth of her frown, he was still on her shit list. She probably had a few curses to throw his way, but revisiting the past would have to wait. "Can you hate me later?"
The Djinn's stare, unblinking and direct, burned through him. "You are a sight for these eyes, and not a good one."
Running a hand across one bloodstained cheek, he glanced down. His clothes were a mess—he'd taken a scrape of claws across the abdomen. A few inches deeper and Xavier's demon would have succeeded in disemboweling him.
No time to beat around the bush. "I need help."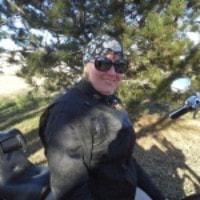 Devyn Quinn lives in the scenic Southwest, though she has called several other states home. She is a huge fan of dark gothic music & shoot-'em-up action movies. 
Having published through traditional channels, Devyn got fed up with the antiquated New York system & decided to head into indy publishing with Beyond the Page. Beginning in 2017, she will be releasing new work. She is also planning to reissue her former NY titles with fresh material & smoking hot cover art. More exciting is the forthcoming "Ocean Deep" mermaid series, which will tell more tales of the Mer. The Kith & Kynn, Eternity, and Wildcat series' will also be continued with new books.
Website * Facebook * Twitter * Instagram * Pinterest * Bookbub * Amazon * Goodreads

Follow the tour HERE
for exclusive excerpts, guest posts and a giveaway!

a Rafflecopter giveaway