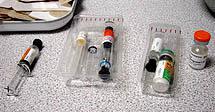 Yesterday, the Practical Traveler reminded travelers that "Getting vaccinated may be the last thing on your mind when heading off on vacation, but it's important — whether you are traveling to an exotic destination or not." This point is illustrated by last month's advisory from the Centers for Disease Control and Prevention (CDC) documenting the unusually high number of measles cases in the U.S.  Measles has also been a problem in many countries across the globe this year. As we reported in April, the Health Protection Agency in Europe (HPA) has been urging parents to get their children vaccinated against the disease.
Before traveling abroad, check with your doctor or other qualified physician to make sure you (and any family members traveling with you) are caught up on routine immunizations, including tetanus, and find out if there are any vaccines recommended specifically for your destination.  
Photo by gruntzooki.