I only started cooking "properly" a year or so ago, before that I was just an expert apple crumble maker (I'll post my recipe soon) and ace food taster. Now though, I can throw a few things together without freaking out and asking the mother for help (now she just helps anyway). The most useful thing I've found out, is that you can cook almost anything in a wok. Any kind of meat, fish, vegetable, you name it. Put it in a wok and it'll taste good. As long as you add other stuff too of course...
My latest wok creation was a prawn and chorizo stir-fry for me and mamma. It took around 10/15 mins including prep time and according to her was the "best thing I'd ever made"– which probably isn't that hard. 
The best thing is– it's so simple. All you need are:
Half a ring of chorizo (we get ours from tesco)A bag of prawns (around 225g- tesco again! But if you can get fresh prawns, do)1/4 red pepper1/4 yellow pepper1/4 green pepper4 cloves of garlic3 salad tomatoesSprinkle of marjoramSprinkle of chilli powder/chilli flakes (use both if you like it hot!)A few splashes of sweet chilli sauce (get the mild stuff if you like but I love Blue Dragon Hot Sweet Chilli)Fresh parsley 
If your prawns are frozen, fill your sink with warm water, put them in a colander and let them defrost while you prepare everything else. Cut the chorizo into fairly thick bits (around 1cm), then cut them in half. Slice your peppers into long strips, thick chunks or whatever you prefer. Cut your tomatoes into quarters.Use a thick knife to crush your garlic cloves (use the flat edge and push down, I always use a butchers knife). Chop your parsley a little, but don't dice it or reduce it to dust! You still want it to be leafy.Put your wok on the gas (electric, whatever) and put about a table spoon of olive oil in (use more if you want) on a medium heat.When the oil is nice and hot add the chorizo, peppers, garlic and tomatoes, stirring/mixing occasionally for a minute or two. Then add a sprinkle of marjoram and chilli (as much or as little as you like– don't be scared to have a taste!) along with the sweet chilli sauce. If it looks dry, add more sweet chilli– you can never have too much!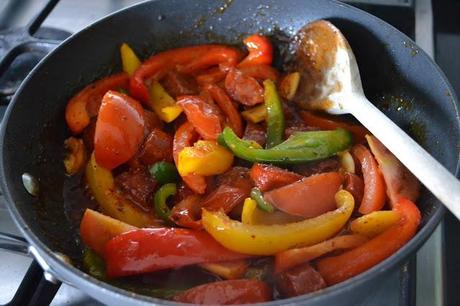 If (like me) you're using pre-cooked prawns, make sure you add them in last as you only need to heat them up. If your amazing and went out and got fresh, uncooked prawns, throw them in with the chorizo!
And wala!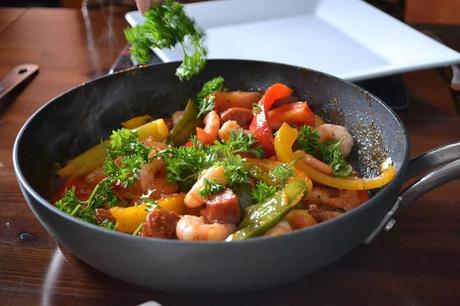 Hoy some parsley on the top and your done!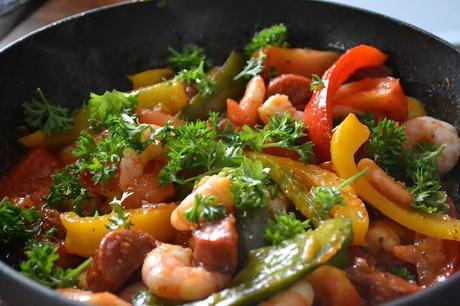 Add some good old salt & pepper if you fancy– we did!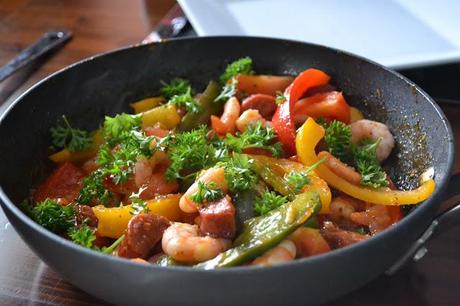 We quite like eating this by itself, but if you wanted you could even add some pasta, a jacket potato or even throw it in a wrap!
Enjoy!