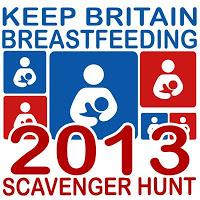 The British National Breastfeeding week will be celebrated  between June 23rd - 29th. I am delighted to be collaborating with other bloggers and companies that support breastfeeding.

The goal of the Keep Britain Breastfeeding Scavenger Hunt 2013 is to add a little bit of fun and to raise awareness of breastfeeding.  

Each day  bloggers will be writing articles and posts around around a different theme.




Sunday June 23rd - The Benefits of Breastfeeding

Monday June 24th - Top Breastfeeding Tips You Should All Know

Tuesday June 25th - The Importance of Breastfeeding Support

Wednesday June 26th - Positive Nursing In Public Experiences & Funny Breastfeeding Memories

Thursday June 27th - Breastmilk Pumping

Friday June 28th - Breastfeeding Beyond a Year

Saturday June 29th - Dispelling Breastfeeding Myths




I am going to publish another post on breastfeeding beyond a year next Friday, along with great competion! So stay tuned and make sure to subscribe to  

Breastfeeding in England

 to 

receive updates about the Hunt and information on where to find the newest articles and posts.

Thank you so much for stopping by! If you enjoyed this post, please join us on Facebook,Twitter,Pinterest and G+. Click on the buttons on the right hand side to follow us on these platforms.