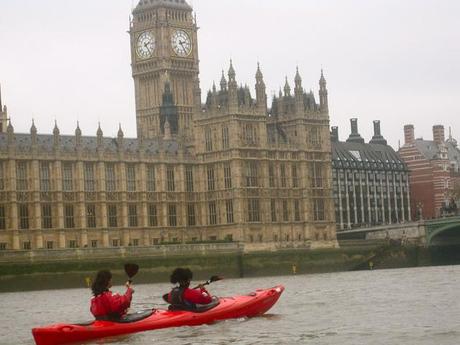 (Our fellow kayakers)
As part of my birthday present (albeit my birthday was ages ago) I got to go kayaking through London. And as I sit here typing this three days after the fact I am still sore from the experience.
See the problem with most things in life is that once you go somewhere you have the lovely task of coming back, and kayaking is no different. Paddling from Chelsea (Overground: Imperial Wharf) to Tower Bridge was not too difficult. The journey back, however, consisted of hysterical laughing due to exhaustion and some snappy comments for which the kayak leaders informed us that that is why they call the two-seater boats divorce boats. Divorce boats, indeed!
We made it back to Chelsea and since the tide had gone out I had to lug the kayak through the mud. In my Steve Madded brogues. Yeah. Is it just me or am I always wearing Steve Madden shoes in these outdoors-y situations that usually require, oh I don't know, waterproof boots, perhaps?
Not to worry though, they are now peacefully resting on the radiator after being thrown in the wash immediately. I can only hope they regain their shape and former glory after drying.