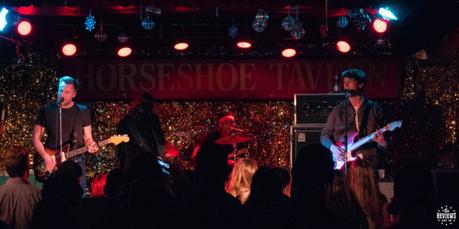 On Wednesday night we continued our Canadian Music Week coverage with a stop at The Legendary Horseshoe Tavern to see Kasador and Side Hustle kick off the night's APA showcase.
Five-piece, garage-pop outfit, Side Hustle started the night with an 8 pm set that welcomed the crowd, brought folks to the front of the stage, and got bodies moving. The Toronto-based band rolled through songs from their 2018 EP, So So So So So as well as some new tracks during their opening set. And while Chloë wasn't able to roam the stage or dance due to her walking cast, Side Hustle didn't lack for energy or effort on stage at The Horseshoe.
The band's sound is a combination of dynamic duo leads in Chloë and Pete plus a full band and sound and show when it all comes together. The dual guitar work paired well with the keys and rhythm section for a full sound that left nothing out but never over-shadowed the shared vocal performance from the lead twosome.
With new music on the way, Side Hustle will be in our sights.
Photos of Side Hustle at The Horseshoe Tavern, Canadian Music Week 2019
This slideshow requires JavaScript.
Second to the stage, keeping the good times going, was Kingston, ON rock band Kasador.
With more music lovers through the door by their 9 pm start time, Will, Boris, Cam, and Stephen brought their rock and roll energy to Toronto, and the crowd gave their energy right back to them. The quartet played songs from their self-titled 2016 EP, as well as its follow-ups. Tracks like Come Get Yer Money connected in a big way. And when the band broke into a cover of Tom Petty's 1995 classic, You Wreck Me, we fell in love.
The shared workload on stage gives Kasador a full band, never stale, always moving groove. It's a live rock and roll show and sound that leaves us wanting to see them again, to hear new music, and to see them play bigger stages in front of bigger crowds as they move forward in their career.
The band has shows on the schedule leading into the summer season. They've got the chops to earn new fans on each stop. And when they're back in Toronto, we hope to see them again!
Photos of Kasador at The Horseshoe Tavern, Canadian Music Week 2019