Book Review of Karna's Alter Ego
Book Blurb: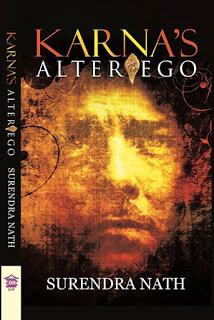 Karna, the ill-fated hero of Mahabharata. Many feel he deserved to win. If only luck 
had favoured him…..
5000 years later, we have a man named Vasu, who is much like Karna- born illegitimate, very talented but denied all credits in life, rejected in love, missed a medal in the Asian games, gets caught telling an innocent lie, overlooked for promotion. He begins to identify himself with Karna, and interestingly Karna appears to him after every debacle to assuage and encourage him.

It seems Vasu is Karna's alter ego.My Review: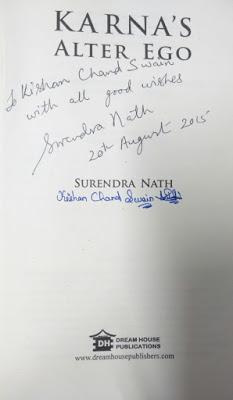 Surendra Nath has done a great job in characterizing the protagonist of the story Vasu Sen with Karna. In the process he has depicted how their lives are entwined. Like Karna he faces misfortunes and is in the losing side most of the times. But having Karna by his side gives him the strength to fight against all odds and to move forward in life.
The author has tried to share important life lessons though the characters and the circumstances that engulf them at various situations. I wonder if the situations are imaginary or his life experiences, either way I had a great time reading the book.
I wish I have my Mythological Friend Krishna, by my side at times of need like Vasu had Karna in the book.
I would recommend all of you to read the book and find out how Karna helps the protagonist in rising above the problems and have a different angle of view of life.
I was given the book in exchange of an honest review and I would like to thank Surendra for giving me the opportunity.