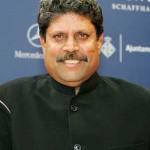 Former Indian skipper Kapil Dev and the BCCI have buried their differences. On Wednesday, the Indian board president N Srinivasan conveyed that he looked forward to a "fruitful association" with the one-time blacklisted former player.
For the last five years, starting from when he threw his lot in with the Indian Cricket League (ICL), Essel group's rebel initiative, Kapil had a falling out with the BCCI. As recently as a couple of months back, Kapil didn't figure in the comprehensive list of former players that received a one-time financial benefit, that came from the Indian Premier League's earning.
However, the board has immediately released a one-time benefit payment of Rs 1.5 crore apart from his pending pension of Rs 35,000 per month over the last five years.
The truce was on the cards ever since the BCCI president Srinivasan had raised the issue of Kapil's amnesty at the working committee meeting earlier this month.
Welcoming Kapil back, Srinivasan said: "Kapil has informed the Board that he has resigned from the Essel Sports Private Limited / ICL. He has also stated in the letter that he has always supported the BCCI, and will continue to do so in the future. The BCCI looks forward to a fruitful association with him in the years to come."
Kapil in turn called it a home-coming. "BCCI is like a parent and we are like its children. Actually, we are emotional people but BCCI has done a lot for Indian cricket and I am happy to be associated with them," he said.