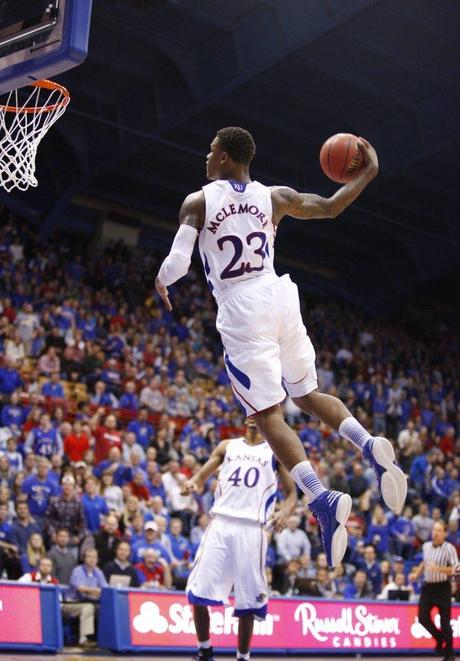 What with this being a big week at present, for basketball in general but KU basketball, in specific, there's a terrific article out today from Think Progress on one of their star players, Ben McLemore:
What Kansas Basketball Star Ben McLemore Can Teach America About Poverty
I imagine teaching America something about poverty isn't exactly what Mr. McLemore wants to be all about but the article makes some excellent points:
Ben McLemore is a 6-foot-5 inch phenom, a 20-year-old redshirt freshman who leads one of college basketball's best teams in scoring, has the Kansas Jayhawks on the verge of another deep run into the NCAA Tournament, and could be the first overall pick in June's National Basketball Association Draft. McLemore is a contender for the national Freshman of the Year award and is a finalist for national Player of the Year awards too.
He is also a product of the extreme poverty that grips millions of families across this country, a child whose mother worked multiple jobs in a vain attempt to make ends meet, a kid who often went days without food and found it "hard to play basketball when nothing is inside of you." McLemore's family often had to choose between food and electricity, as USA Today's Eric Prisbell detailed in a profile of the Kansas star last week:
McLemore says the only meals he sometimes had were the free ones at school. His mother, he recalled, sometimes made the difficult decision to sell food stamps in order to pay bills.

 
"Sometimes we would not have food so we could keep our lights on and have hot water," he says. "She had to sacrifice for that."

 
When the family did not have hot water, McLemore remembers one nightly routine: Fill the bathtub with cold water. Heat up bowls of water in the microwave, then run them to the bathtub to make the tub water lukewarm for baths. The warmth never lasted, he says.
McLemore is months from being able to fully leave that past behind, a from-the-gutters-to-greatness success story that is so often repeated in sports. But the fact that McLemore's family had to sell food stamps to afford light and heat, that they had to shuttle microwaved water to the tub for a warm bath, that they went days without food and slept huddled in the living room to avoid the bitter cold, is more a story of America's failure than it is of McLemore's success.
Our social safety net keeps millions of people out of poverty each year. It includes programs that help low-income families afford food, that helps poor children get breakfast and lunch at school. It also includes programs that help low-income families heat their homes, that help working mothers like McLemore's afford child care, that help poor children get a better education. It includes programs that all Americans have heard of, like food stamps and welfare, and many, like WIC and LIHEAP, that go mostly unnoticed by anyone who doesn't use them. Together, the programs form one of the stingiest social safety nets in the industrial world, and yet, it is these programs that have repeatedly faced the budget axe as American politicians keep cutting spending.
...every year we lose a countless number of Ben McLemores who, with a little more help, could have been scientists, doctors, teachers, or otherwise capable members of society and forged their own way out of the throes of extreme poverty.
It goes on from there.
It's a good to great article and more should read it.
And here's the rub: the irony, the gross irony and even hypocrisy of this is that here you have this very talented young man playing for Kansas, for the University of Kansas while at the same time, the Governor and the very Republican statehouse legislators keep slashing not just funds for the poor, heartlessly, but for education, too.
It's nearly overwhelming.
If we didn't read it in our newspapers and see it on the news nearly every day, it would be difficult to believe.
Is this who we are? Is this what America is about? Is this the heartless, cold, really stingy, short-sighted people we want to be?
It all certainly seems so.
And it didn't used to be.