Kansas Financial Woes Getting Worse
It keeps getting worse over the state line in Kansas. This, yesterday, from the Wichita Eagle-Beacon: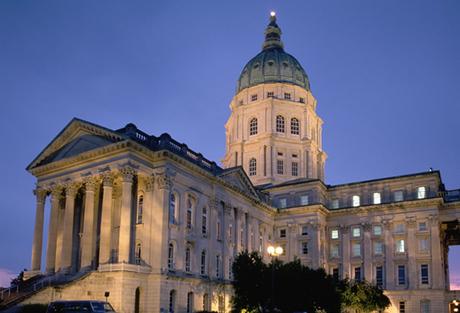 A bit of the story:
The state's cash balance could be even smaller next June than lawmakers realized when they approved a tax plan in June.
When lawmakers left Topeka last month, it was with the understanding the state would have $86 million in its cash reserves by the end of June 2016, which marks the end of the fiscal year, if the governor went ahead with $50 million in cuts.
But those estimates have already been lowered less than a month into the 2016 fiscal year. The state's nonpartisan Legislative Research Department now says that the state will have about $67 million in its reserves by the end of the fiscal year – and that's assuming Gov. Sam Brownback makes a full $50 million in cuts.
So far, the governor has identified only $2 million in cuts.
Since Republican Governor Sam Brownback and his Republican cohorts have taken over in Topeka, things have gone to bad to worse and now, to getting much worse.
Kansans need an election.
A great, big, fat, many state officeholders election, those poor things.
As further proof of the rather ugly financial, Kansas situaion, this broke late last evening:
Read more here: http://www.kansas.com/news/politics-government/article27954994.html#storylink=cpy