Yes sir, Kansas City hits the big time media and in a big way--in the very first paragraph. Just not in a good way: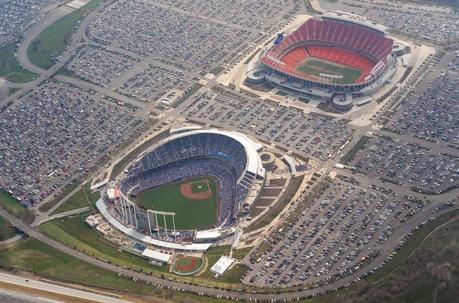 The 10 Grossest Foods You Can Buy at the Ballpark
When they want "gross food", they come to us first, it seems. From "Mother Jones" today:
Five months ago, Jon Costa, a food safety manager for Aramark,
told ESPN
and local media outlets about the dire conditions in the kitchens at Kansas City's Kauffman Stadium (home to baseball's Royals) and Arrowhead Stadium (home to football's Chiefs). He discovered roaches in the vending area, mouse feces near pizza dough, mold growth in ice machines, and employees eating where food was supposed to be prepared.
KSHB reported that the Kansas City Health Department found critical violations at 20 of Kauffman's concession stands last November, after Costa came forward following the Royals' World Series loss. In a letter to ESPN that month, an Aramark official 
refuted
Costa's allegations, which included expired pizza dough 
being served
during Game 7 of the World Series, as "unsubstantiated claims raised by a disgruntled employee." Still, Aramark enlisted an external inspector to conduct additional sweeps of concessions and increased training for its staff. (Costa, meanwhile, 
was fired
i
n March.)
That hurts.
Not only that, though, our beer costs too much: