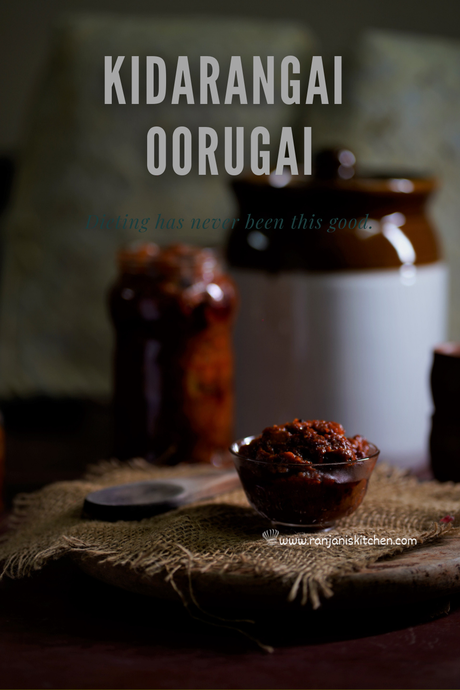 kadarangai pickle recipe | wild lemon pickle - kadarangai in English as wild lemon. It is different from narthangai (citron). This citrusy fruit is best to prepare as pickle. This pickle is widely used to prepare on marriages.It is easy to prepare and must be many's favourite pickle recipe.
For kidarangai pickle we need to choose yellow ripen ones. There are two methods on making this achar recipe.one is making pickle instantly by seasoning the kadarangai in oil. Another method is soaking the wild lemon along with salt and allow to rest from 1 day to 4 days. On the second method, the thick skin of kidarangai becomes soft and tender. I made this pickle on my mom's method. She chopped the wild lemon for me and guided to make a pickle. It came out really well. I wondered is it me who made this perfect traditional kidarangai pickle recipe 😊
Serving suggestions:
Best to serve with curd rice. It is good to have with sambar sadham, biryani and with roti recipes.
More pickle recipes:
Citrus recipes:
Some tips for making the oorugai.
Use sesame oil and rock salt. Because for pickle they are the best. Sesame oil helps to increase the shelf life of oorugai.
How to make kadarangai pickle recipe:
Wash and cut kidarangai (wild lemon) into small pieces and place it in ceramic or glass jar.
Add handful of salt nad mix with ladle. Close with lid and rest in room temperature atleast 8 hours to 3 days.
You can mix with ladle in frequent intervals so that salt will get absorbed evenly.
After the soaking period, heat strong bottomed kadai, add ½ cup of sesame oil.season with 1 tbsp of mustard seeds.
To this add salted kidarangai and mix gently.
Now add ½ cup of red chili powder, 1 tsp of turmeric powder, 1 tbsp of fenugreek powder and 1 tsp of mustard powder.
Mix everything really well and keep the flame low, stir occasionally to avoid burning at the bottom.
Add 1 tbsp of jaggery and cook till the oil starts oozing on top
You can see the oorugai didn't stick at the bottom and comes as rolling consistency like halwa. Now you turn off the flame.
Cool completely and store in ceramic or glass container.
It will be good for one week at room temperature. You can refrigerate for more shelf life.
(Visited 5 times, 5 visits today)