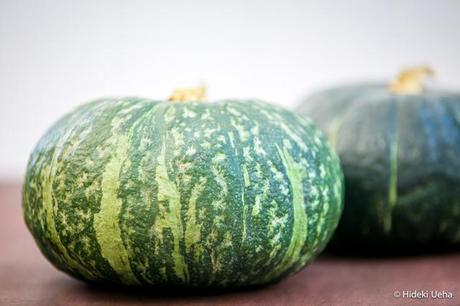 Kabocha, or Japanese winter squash (also referred to as pumpkin), is a vegetable that I never really appreciated. It was only in my young adulthood that I grew to love very thinly sliced pieces of kabocha fried with a light tempura batter. (Photo Credit: Hideki Ueha)
Although I have vivid childhood memories of my Mom cooking kabocha-ni, which is simmered squash, sadly, this was a Japanese dish that I never enjoyed, yet these days I find myself wondering if I should give this dish a chance in my kitchen given my recent adoration of Japanese kabocha.
In another lifetime where I often dined out, frequenting Japanese izakaya style restaurants was almost a hobby of sorts. Izakaya, if you are not familiar with this term, refers to a restaurant/bar which serves small dishes often as accompaniments to alcohol. The dishes are similar to tapas!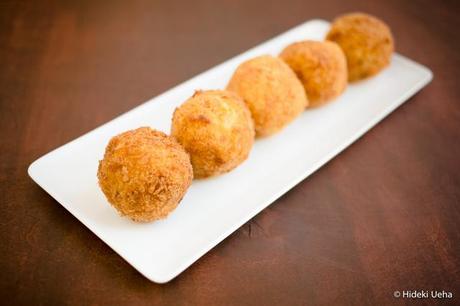 (Photo Credit: 
Hideki Ueha
)
It is at one such izakaya where I discovered a new appreciation for kabocha korokke, or pumpkin / winter squash croquette, yet I was never inclined to make them at home, nor did I ever miss them had I not eaten them in some time.
So I'm not really sure why I decided to make these lovely little kabocha korokke.
It was just one of those moments when I was walking through the market (was it Sprouts or Marukai?) and I saw an inexpensive kabocha, immediately thought of how my Mom loves kabocha, how much I dislike kabocha-ni, but then suddenly the little lightbulb went off in my head and I quickly decided that I would make kabocha korroke, just for fun. I'm glad I did, because I ended up liking them so much that I decided to make these for our 2013 Oshogatsu (Japanese New Year's) feast.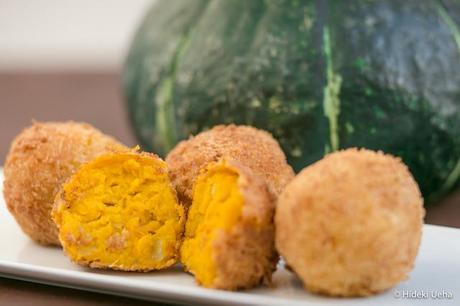 (Photo Credit: 
Hideki Ueha
)
Until last year, I'd never made kabocha korokke, but I knew how to make traditional Japanese korokke, SO, I figured it couldn't be that difficult.
And it wasn't difficult.
The only part that is challenging about preparing these little croquettes, is cutting the raw kabocha. It is ONE tough little squash. Either that, or my non-existent bicep muscles need a little (or a lot) fine tuning with some free weights.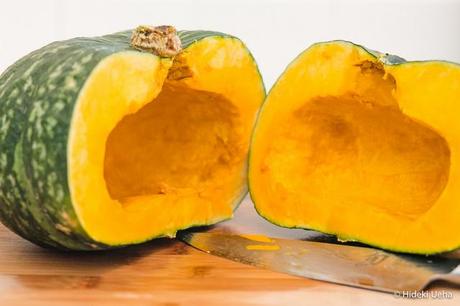 (Photo Credit: 
Hideki Ueha
)
One thing I've learned from cooking vegetables, especially squash, is that it simply tastes better when roasted. A little pinch of sea salt and course ground black pepper with a drizzle of olive oil goes a long way in bringing out the rich, sweet, deep flavors of squash and pumpkin.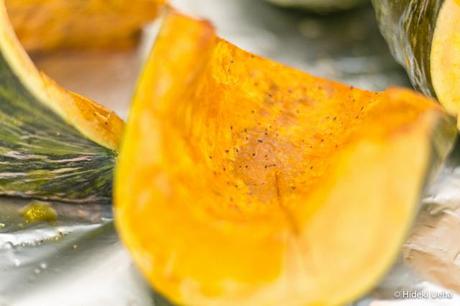 (Photo Credit: 
Hideki Ueha
)
In case you're not familiar with Japanese kabocha, kabocha is often referred to a variety of winter squash or pumpkin. It's color is similar to butternut squash, but unlike butternut squash, kabocha is more dense and has a more starchy quality about it. Kabocha is also very sweet in comparison to other types of squash. You might be surprised by the sweetness of the kabocha korokke, but the sweetness stems from only natural flavors.
Once the kabocha is roasted, its flesh becomes very tender and the hard, coarse skin of the kabocha can be easily removed. The flesh of the kabocha can be easily mashed, just as potatoes are mashed for traditional korokke.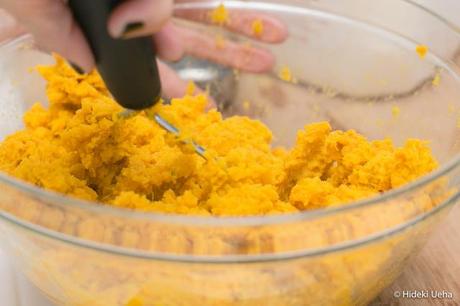 (Photo Credit: 
Hideki Ueha
)
Just a small touch of low-fat milk helps to improve the texture of the kabocha mixture so that it becomes almost silky.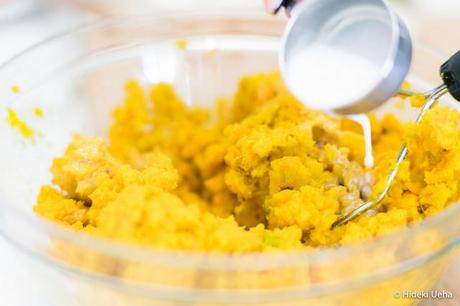 (Photo Credit: 
Hideki Ueha
)
Finally, the kabocha korokke are shaped into small balls, dipped in flour, a light egg wash and panko bread crumbs, then fried.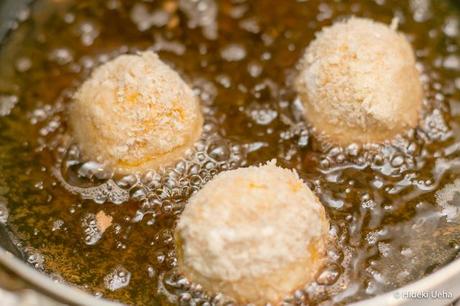 (Photo Credit: 
Hideki Ueha
)
These little kabocha korokke can be served plain, without a dipping sauce. These are so flavorful on their own.
Aren't my little kabocha korokke so cute? One little croquette disappears in a mere two bites, maybe three bites if you're really trying to savor it.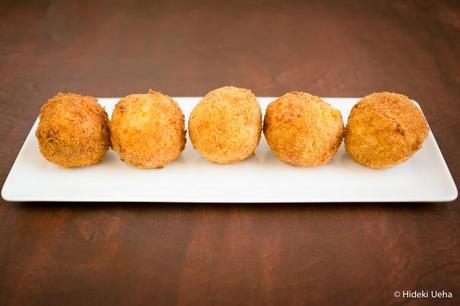 (Photo Credit: 
Hideki Ueha
)
Print
Kabocha Korokke | Japanese Winter Squash Croquette Author: 
Judy | Bebe Love Okazu
Recipe type: 
Appetizer, Main Dish
Cuisine: 
Japanese
  Ingredients
1 Japanese kabocha
1 small brown onion (or ½ medium brown onion)
1 tablespoons low-fat milk (2%) for kabocha mixture
1 egg
Splash of milk for the egg mixture (about 1 to 2 tablespoons)
2 cups panko bread crumbs
¼ cup flour
Salt, to taste
Pepper, to taste
Extra virgin olive oil
½ tablespoon butter for sauteeing onions (olive oil may be substituted)
Canola or vegetable oil for frying
Cooking spray
Optional dipping sauce: ketchup and tonkatsu sauce mixture (ratio 1:1)
Instructions
Preheat oven to 400 F.
Wash kabocha, seeds removed, and cut into wedges.
Line baking sheet(s) with foil and gently spray with cooking spray. Lay kabocha wedges on the sheets, gently season with salt and pepper. Drizzle lightly with extra virgin olive oil. Bake for 45 minutes or until tender.
Meanwhile, finely dice the brown onion. Saute in butter or olive oil until browned. Set aside.
Allow kabocha to cool. Gently spoon cooked squash into a bowl, separating it from it's skin. Add sauteed onions and mash kabocha mixture using a potato masher.
Gently season with salt and pepper. Add 1 tablespoon of milk and gently incorporate.
Place kabocha mixture in the refrigerator to cool completely. I found that working with the cold mixture is slightly easier than working with the warm mixture when rolling the kabocha korokke into balls. Don't worry, the mixture will be very soft and almost difficult to shape into a ball, but it's doable. And they will turn out great!
Set-up a work station: place kabocha balls on a plate, flour in a small deep dish, combine egg and a splash of milk in a second small deep dish, panko bread crumbs in a third deep dish. OPTIONAL: Season flour with a dash of salt and pepper. My mom often does this with anything that is breaded and adding an extra layer of flavor never hurts.
Dip kabocha balls in flour, next in the egg/milk mixture, then coat with panko bread crumbs.
Heat canola or vegetable oil for frying in a medium pan to a temperature of 375. TIP: Or, if you're like me and don't want to break out the thermometer, toss in a piece of panko bread crumb and if it quickly sizzles and floats to the top, your oil is ready.
Fry about 6 kabocha korokke at a time, about 1 to 2 minutes on each side until golden brown.
Allow kabocha korokke to cool on a plate lined with paper towels. I don't recommend draining the korroke on a wire rack as these korokke are very soft.
Sauce (OPTIONAL): If you would like a simple dipping sauce on the side, trying mixing equal parts of ketchup and tonkatsu sauce. If not, you can drizzle tonkatsu sauce over the kabocha korokke, or you can do what we do which is to eat them plain, no sauce. They taste perfect on their own.
3.1.09