The Monsoon has hit the City & the view from my parents' bedroom is this…
Or a variation of this… Sometimes Darker, Stormier, Rainier & Prettier!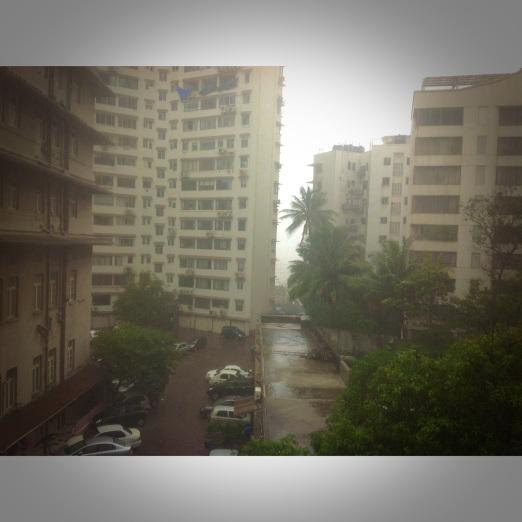 It's my favorite time of the year! The incessant rain, thunder, the cool breeze or insane winds, the strange sepia-grey light in the morning, … flooded streets, cancelled meetings, rain holidays, stalled trains, traffic jams not withstanding!
These are the days you want to ditch your umbrella (it wouldn't stand a chance anyway with the crazy wind!), get into your flipflops, splash into puddles on the promenade by Marine Drive, bite into hot, spicy corn-on-the-cob, roasting slowly & deliciously on charcoal while you get drenched to the bones! Sigh… been a while since I've done that!
Right now though,  I'm glad I'm under house arrest & enjoying the rains from the indoors. It has a bit of romance of it's own… hot cups of coffee or chocolate, music to go with the mood, a good book, a blanket to cuddle into & a Bombay rain staple… Bhajjias! 
Bhajjias or Pakoras as they are called up North, are little deep fried crispy pieces of goodness that are perfect with a hot cup of tea in the gorgeous rainy weather! You have Batata / Aloo (Potato), Mirchi (large green chillies), Daal (Lentil), Paneer (Cottage Cheese) & even Bread Pakoras!
But our family favourite… actually the Bombay street favourite… are Kaanda Bhajjias… light, crisp batter-fried Onion Fritters!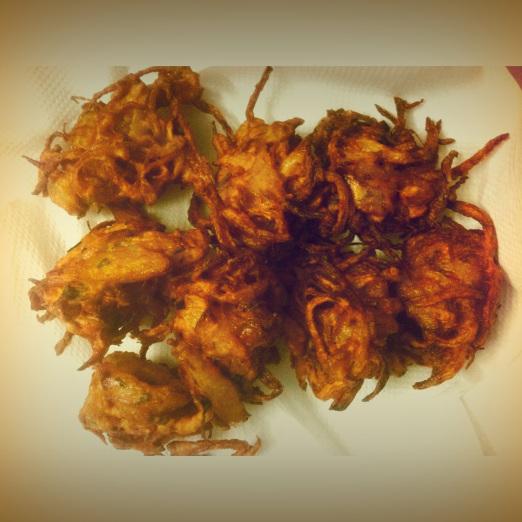 With everyone at home on a rainy, rainy Saturday evening, & a rained out India vs Pakistan Cricket Match on TV the weather & mood were perfect for these. And guess what… I could make these as my ban from the kitchen has been lifted!
Ingredients
8 large Onions (finely sliced)
4 Green Chillies (finely chopped)
2 inch piece of Ginger (grated)
2 teaspoons Jeera / Cumin Seeds
1 teaspoon Haldi / Turmeric Powder
1-2 teaspoons Red Chilli Powder
Coriander Leaves (finely chopped)
5-6 tablespoons Besan / Chickpea Flour
Salt
Note: You could increase / decrease the quantity of Green & Red Chillies depending on how spicy you'd like the Bhajjias to be. These were moderately hot.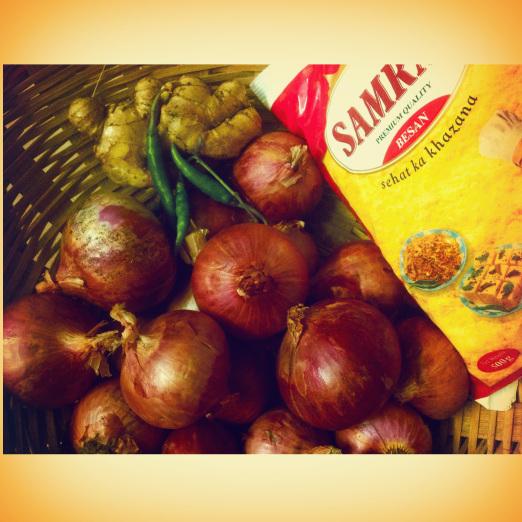 Method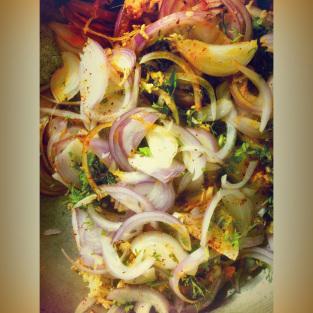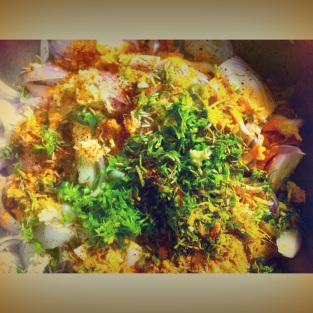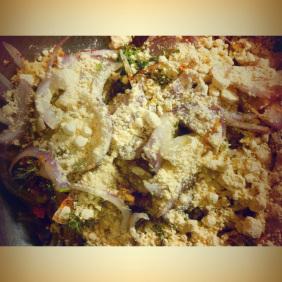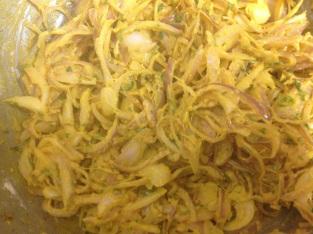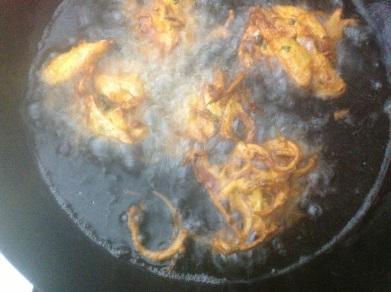 Mix together the onion slices, green chillies, ginger, cumin, turmeric, coriander leaves & red chilli powder in a large bowl.
Sprinkle enough Besan / Chickpea Flour to coat the onion slices. Make sure that there is enough to coat & hold the onions together without making it thick & batter-y.
Season with salt & mix well.
Take handful of the onion mixture, squeeze together to make sure it holds its shape & drop into a deep wok of hot oil.
Fry till a deep gold brown & serve hot with Mint Chutney or Spicy Tomato Sauce.
Note: It is very important to season with salt at the very end, just before frying, that way the onions do not lose water into the batter. It's necessary to keep any moisture away from the batter so that the Bhajjias get all crispy & crunchy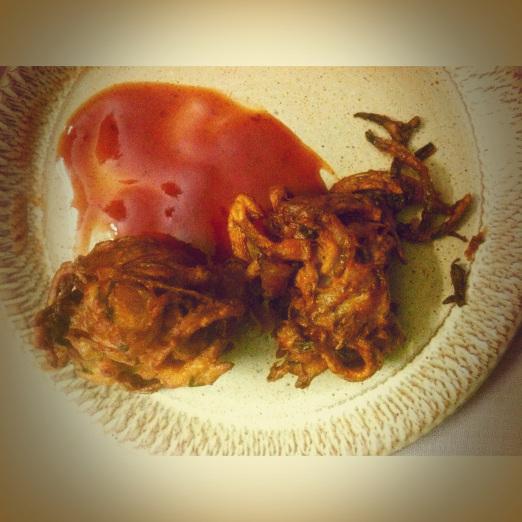 This recipe serves 4