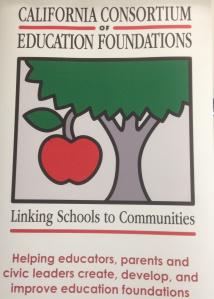 It was a pleasure to serve as a panelist at 2014 California Consortium of Education Foundations annual conference, held at UC Irvine this week, to discuss lessons K-12 fundraising professionals can glean from their higher education counterparts. The panel, moderated by Andrea Sala of the Peninsula Education Foundation in Palos Verdes, also included Dr. Sylvia Acosta, Assistant Vice Chancellor at UC Irvine.
Our discussion was wide-ranging, but focused primarily on the importance of inspiring donors through storytelling, providing clear and concise messages, and creating a culture of giving.
Among the takeaways:
Fundraising success is best achieved through building more relationships, not running more events. People give to people.
It can take as much work to close a $1,000 gift as it can to close a $100,000 gift…so don't shy away from pursuing big gifts!
Volunteer-driven vs. staff-driven:  Successful campaigns require strong, committed volunteer leadership. Board members must participate in fundraising efforts.
Cultivation of donors is a multi-step process culminating in the opportunity to inspire someone's philanthropy.
Stewardship of existing donors is every bit as important as cultivation of new donors. They are your best source of additional gifts and of introductions to new prospects.
Focus on continuous lifetime involvement of major donors as you foster their growth from making consistent annual gifts to major gifts to, ultimately, their greatest gift. The most successful fundraising efforts are based upon relationships, not transactions.
As Dr. Acosta pointed out in her opening remarks, "fundraising is fundraising." While clearly there are differing priorities, interests, and constituent groups in K-12 from higher education, we still need to be able to tell our story.
We should all strive to inspire donors through powerful storytelling, be able to illustrate the impact of one's giving, and have the ability to provide quantifiable measurements of an organization's effectiveness. Above all, we have to exhibit passion for the causes we represent, whether they be higher education institutions, public schools, or other non-profit organizations.
This post originally appeared on RPR Fundraising's blog.