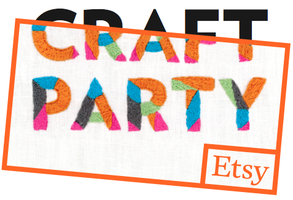 Join us on JC Fridays, a quarterly city-wide celebration of the arts in Jersey City, as the latest work from designer/artist Terina Nicole, founder of Jypsea Leathergoods is presented at Ed's Salvage Co.
Participate in a fab design DIY project and goodie bag giveaway! (while supplies last) in conjunction with Etsy

2014 Craft Party!
Free and open to the public.
June 6th, 6:30-8:30pm at 672 Bergen St., Jersey City
Terina Nicole is a New Jersey City University graduate student, Fashion Institute of Technology alumni and creator of Jypsea – a home & body luxe line of leather goods. The collection's focus is jewelry, handbags, small leather objects and furnishings. Materials used includes exotic skins, up-cycled finds, wood and metal; with all, she provides an infusion of soul.
See the full art crawl line-up at http://jcfridays.com/

RSVP: https://www.facebook.com/events/303702259796999/?ref=22
Also, now until midnight on Friday, all of Jypsea Leathergoods earrings are 20% off at the Etsy Shop!