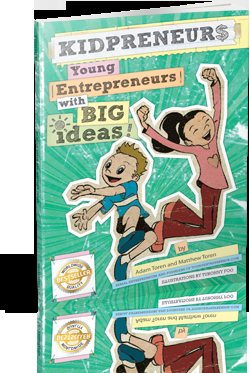 Recently I purchased KIDPRENEUR$ for my daughter to further provide inspiration to encourage her entrepreneurial pursuits. The book was written by two brothers, Adam and Matthew Toren, who are successful adult entrepreneurs that got bit by the self-employment bug as children thanks to their granddad who gave them model airplanes to sell at a local fair. Since that fateful occurrence, the brothers have gone on to own several successful enterprises. Their goal is to teach business techniques to children and show them that it is never too early to get involved in business in ways that are fun, creative and safe.
The book is an quick read and should be easily understood by children as young as age 7. It is practical and straightforward. I believe that it provides all a kid needs to turn their ideas into money-generating pursuits.
And best of all, the book is FREE! I simply paid for shipping and handling and the book arrived within 2 days.  Get yours here.