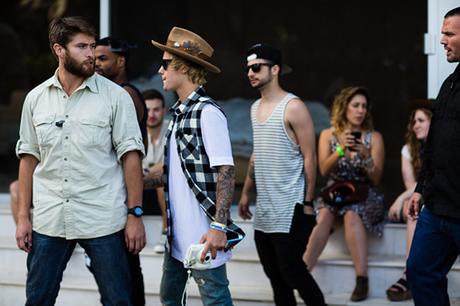 Y'all it seems like Justin Bieber was kicked out of Coachella (-_-). Read more of what happen below.
According to TMZ, Justin and his entourage went to watch Drake's set on Sunday night. But when they approached the artist's entrance, they were stopped by security and told the area was at capacity. Bieber showed the proper wristbands, but security still didn't grant them access. 
Bieber then got into an argument with security, explaining that he was unable to stand in a big crowd because he would be bombarded by fans. But security wasn't having it and told him to leave.
A Coachella staffer then offered to escort Bieber inside the artist's area. She grabbed him by the arm and began walking him and his security team inside before Coachella security came up from behind and put Bieber in a chokehold (0_o). 
Bieber's team allegedly got into a scuffle with security and the singer was then ordered to leave the premises. But sources are saying the Biebs left on his own. Check out the video below.