As you know, Bailey from the Novel Nerd and I are hosting a book club every month. For the month of July we are back fro another amazing read! For more information about our book club, you can read our introduction posts here and here. 



Since today is the first of July, we will be starting a new book for the book club. We took a poll to see which June release we would read for July and this was our winner: 

This month's book is: The Moon and More by Sarah Dessen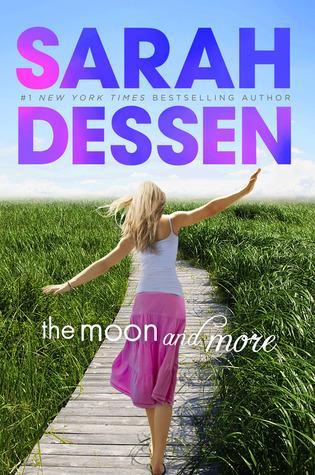 Luke is the perfect boyfriend: handsome, kind, fun. He and Emaline have been together all through high school in Colby, the beach town where they both grew up. But now, in the summer before college, Emaline wonders if perfect is good enough.
Enter Theo, a super-ambitious outsider, a New Yorker assisting on a documentary film about a reclusive local artist. Theo's sophisticated, exciting, and, best of all, he thinks Emaline is much too smart for Colby.
Emaline's mostly-absentee father, too, thinks Emaline should have a bigger life, and he's convinced that an Ivy League education is the only route to realizing her potential. Emaline is attracted to the bright future that Theo and her father promise. But she also clings to the deep roots of her loving mother, stepfather, and sisters. Can she ignore the pull of the happily familiar world of Colby?
Emaline wants the moon and more, but how can she balance where she comes from with where she's going?
Sarah Dessen's devoted fans will welcome this story of romance, yearning, and, finally, empowerment. It could only happen in the summer.
Now that we've released the book title, it's your job to go and read it within the next three weeks! Then you can follow this schedule for the rest of the month:
July 15
: Discussion questions posted The Literature Lion & Novel Nerd
July 28:
Literature Lion & Novel Nerd post their responses to the discussion question + Linky
July 29:
Giveaway of The Moon and More on Literature Lion & Novel Nerd
June 28 - 31:
Post your responses to the discussion questions on your blog and comment on others!
If you're participating in the book club, feel free to put some of these in your sidebar!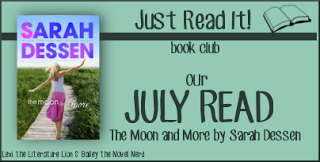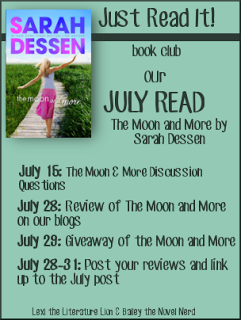 Now it's your turn to keep reading!
Leave a comment below if you plan on joining the Book Club!
PS - If you have any ideas for more things to include in the Book Club, email us at
[email protected]
or
[email protected]