What can I tell you about
cake
? I don't bake. I've been known to enjoy the odd piece of Battenburg (it's the marzipan) and I'll happily see off a seasonal hunk of Christmas cake (accompanied by cheese) - but that's about it. I suppose if I'm out at a coffee shop I might snaffle some millionaire's shortbread just for form's sake...although that's not really cake, is it?
My favorite cake is probably Pear's soap, a lovely translucent bar - not for internal consumption. Therefore, being the contrarian that I am, you're in for another left-field take on this week's theme and the approach will be a somewhat roundabout one.
I don't know how many of you are heavily into music; probably quite a few. Does anyone else regret having sold most of their vinyl albums back in the 1990s? I sold hundreds of them as I 'upgraded' to compact disc, for the economy of storage and ease of use as much as anything. I hung on to a few much-loved LPs that stood very little chance of ever getting re-released on CD but for years I had no turntable to play them on. I have to say I missed the ritual of getting records out of their sleeves, cueing them to play and then sitting perusing the album cover while listening to the music. The miniaturised versions of artwork that come with CDs lose something of the aesthetic beauty of the whole experience.
Therefore a couple of years ago I purchased a new turntable and pre-amp for my hi-fi system and started buying vinyl albums again in a limited way. I thought it would be cool to have my Top Twenty all time favorite albums on 180g vinyl - and the sound quality is undoubtedly superior to CD. That twenty became thirty, plus a few interesting contemporary albums that are
only
available on vinyl (there's a novel trend), then forty and fifty and counting. I have two reasons for mentioning all of this...
Reason number one is that next Saturday (i.e. a week today on 21st April) it's Record Store Day with lots of special events and special vinyl releases to enjoy at old-fashioned record stores up and down the country. Blackpool still possesses two record stores and I'll probably pay a visit to both of them. I'm highlighting this now because all the fun will be over by the time next Saturday's blog gets posted.
Reason number two concerns one particular album from my Top however many, a record by the American band Little Feat, released in 1972 and titled "Sailin' Shoes". It features here not because of the music - which is excellent, by the way - but because of its gate-fold album cover, reproduced below: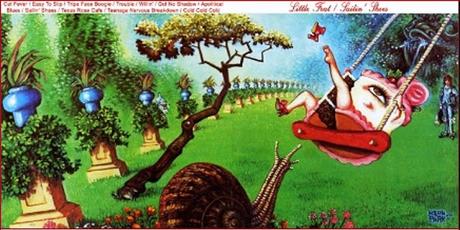 It's a distinctly quirky painting by an artist calling himself Neon Park xiii and prominent in the picture is a cake on a swing, jettisoning one sailing shoe. I decided that for today's blog I'd write a poem inspired (if that is the right word) by the cover art. I like to think of the cake as Sara Lee, after that iconic American brand whose tagline stated: "Everybody doesn't like something - but nobody doesn't like Sara Lee".
Neon Park xiii (real name Martin Muller) was a US artist and illustrator best known for painting the quirky cover art for several Little Feat albums and for other musicians' records as well (the Beach Boys, David Bowie and Frank Zappa among them). He started to suffer from a numbness in his hands in his early forties and was eventually diagnosed with Amyotrophic Lateral Sclerosis, a degenerative disease with no effective treatment. Eventually he was unable to paint any more, so he concentrated on writing poetry, typing with one finger when he could no longer hold a pen. Sad to say, Neon died in 1993 aged just fifty-two.
The term applied to the sort of poem I'm writing here is ekphrastic poetry, from the Greek words
ἐκ
and
φράσις
('out' and 'speak' respectively); essentially a literary description of a work of art (in this case a painting) wherein the writer seeks to illuminate the scene and expand its meaning through the medium of words - making the picture speak.
As I have absolutely no idea what Neon had in mind when he painted this scene, the imagination has free reign...should be interesting. Here we go. As sometimes happens, this may not be its finished form.
No Bride Cake She
Sara Lee swings from a greenwood tree,
kicking off her heels to prove a point,
a national sweetheart cutting free
and getting high effortlessly.
Comely this girl who's been baked to perfection,
now wide-eyed and blushing in ecstasy;
no bride cake she but a wanton confection
happily yielding a section.
The first piece is always the freshest and best,
a cake's nothing proved till she's sliced;
Sara savours the breeze with zest
having passed the crumb test.
(to be continued...)
Thanks for reading and have a groovy week, S ;-)
Email This
BlogThis!
Share to Twitter
Share to Facebook
Reactions: