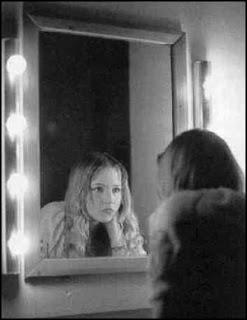 It was quarter past nine in the evening.  The night wore the darkness, filling the streets with black color gradually. Samaira was waiting for her husband. An eerie thought was in her mind. She stood up from her bed, looked at the mirror. All she could see was a lovely couple, Nishant and she standing young like it was just yesterday, Nishant's arm hugging her shoulder from the back. She remembered how they had taken oaths to be with each other ever, forever.
Damn those days! What happened now? Damn you Nishant.
Nishant and Samaira had a love marriage. During the early years it was not accepted by her parents but ten years down the line, situation had been different. She could still hear the traumatizing words of her father "
If you marry that moron, consider ourselves dead!"
A sudden shiver brought her back from the sands of time. Her mobile was beeping incessantly. The screen flashed
Nishant calling. Oh my god! Not again. Please say you are coming home and not going to dine out with Malini, please. 
She pressed the green answering button
. 
"
Where were you honey? I have been calling you since last fifteen minutes." Nishant's voice had a concern. Samaira removed the negative thought that clouded her mind. "I was in the shower, love." She lied.
Maybe he will come home. Yes, his voice, his concern seems like he will come home. He is back! 
Joy imploded in her. She was silently smiling. Now, she wanted to hear him. "Darling, have a lot of work to do today. I will be late in the night. You eat your dinner, take rest. I will ring you up when I will reach home." "Not Again!" 
He must have been with that bitch. 
She wanted to say more, even if it satisfies her psychologically, but all he could hear was a long engage tone.
What if he really had work? What if he said the truth? He can't always lie? Could he?
She was fighting with every single cell that led to the thoughts in her brain.
What if he is with her? What if he is not working but dating with her in a fancy restaurant? What if he stops by her apartment? What if they are drinking together? What if he is with her, in her bed...?
She squeezed her already closed eyes harder. "No." The room was filled with loud howls. "No..." After some time, there was nothing left in the room except silence.
Samaira looked herself in the mirror. She saw Nishant living happily with Malini. They danced together, sang together and partied together, and drove to work together. Everything they did, they did it together. Samaira was nowhere in sight. She felt cheated. She felt being used.
You can't do this to me, Nishant. You loved me. You still do! Won't you? 
She screamed at Nishant. "He is all my now, Samaira. All you deserve is hell now." She saw Malini coming out of the mirror staring her in the eye. "No...." Samaira pulled back as she screamed. She hid her face beneath her palms. "No..." 
She wanted some calm. She looked again at the mirror with fear. All she could see was her own reflection. She saw how wrinkles had taken over her beauty. She closed her eyes, hissing under her breath.
He is only mine... He is only mine... 
She didn't realize when she went in the world of dreams. She saw a figure coming out of the darkness stabbing Malini straight in the abdomen. She was stunned to see the figure as light spread over the figure. It was her.
You can read the next part by clicking The truth
Disclaimer: This is a work of fiction. The characters, names of organizations, etc. are fictitious and bear no resemblance to anyone living or dead.