My next room install date is nearly here.  I thought it would be neat to share with you a few of the items that I have purchased for the Living Room.   Bare with me, I took several of the pictures in my basement storage room which has one teeny tiny window and looks just like the inside of a spaceship.  I'm guessing that's what it would look like since I haven't actually been ya know, abducted by aliens.  Anyhoo, the pictures were not too pretty, but here ya go...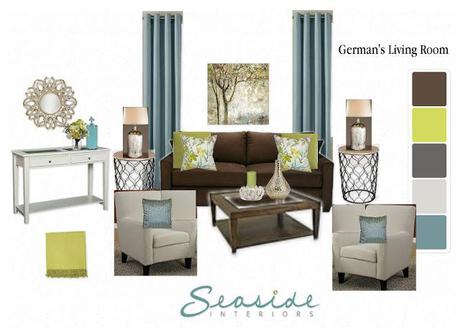 This is the Room Board I originally created for my client.  The artwork has changed for above the couch and the unit that is underneath the mirror will now a cabinet.  But overall the room should have a similar feel when completed.
One of things I enjoy doing is humming and hawing over the color of the room.  There where several contenders, but the color choice I finally decided on is Revere Pewter by Sherwin Williams.



I paired it against the pillows and the tables to make sure that it went well.  A few of the other grays I looked at didn't have enough warmth to make it into the room.
I mentioned awhile back that my husband started his painting business, so he is going to be the one putting this pretty color on the walls.  I like recommending him on jobs that I do since well, I know where he lives if he screws anything up.  Right?  Also, he is such a perfectionist that I know the rooms will always be up to par when I go in to install.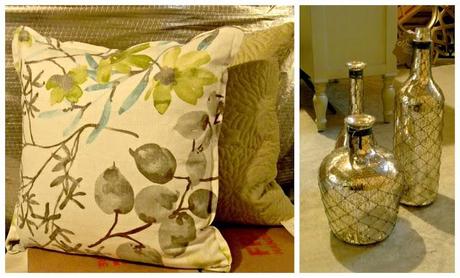 I had two pillows covered in Gazebo Cloud Floral Material to go on the clients brown sofa. I will be bringing in the green patterned pillows as a solid accent color.    A little bling with a set of three different shaped vases might make an appearance.  I always make sure I have extra options when I am working so that I can mix and match or bring in an additional piece if need be.  Do you like to do that when you are decorating a room?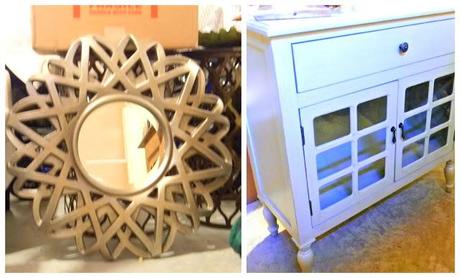 Here is the Kichler mirror that I have been holding onto for several months awaiting the install.   I have seen it hopping around the blogosphere and now I can barely stand the anticipation of getting it up!  The unit is actually a gray blue color, quite a bit deeper than what you see in the picture.  It looks almost white in the picture, but I promise, it's the glare from the spaceship walls that gave it this hue.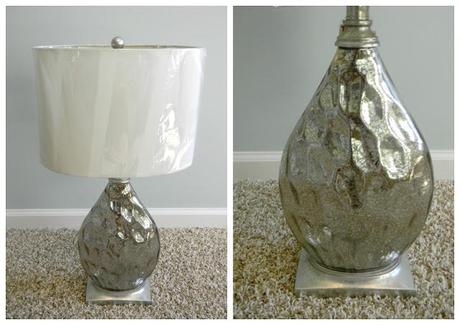 Here are the lamps that I found to go in the room.  I have a certain addiction to the slightly shiny hammered look of the bases.  What do you think of these lamps?  Are you a fan of this style?  It still seems to be a continuing trend.  I think they will look really nice with all of the browns, greens, and blues in the space.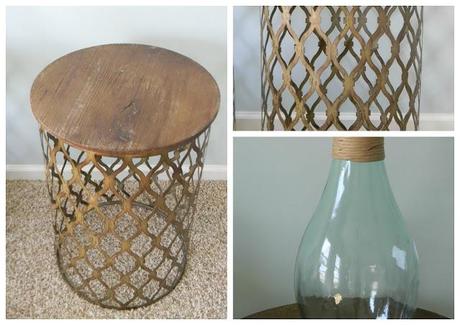 Speaking of browns and blues, here we have the shades of brown and tarnished green in the end table and blue glass vase.  I wanted to bring in unique end tables.  Ones that had some character to them.  I knew that my client really liked the mix of wood and metal, so I thought something like this would fit the bill.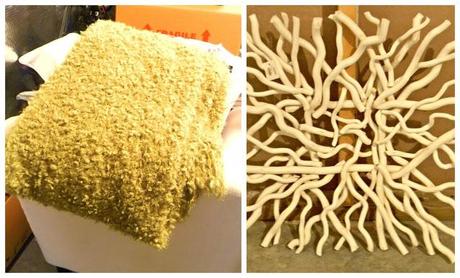 My favorite thing about any room is texture.  I try to bring it in any way I can.  I love nubby feeling throw blankets.  I think this blanket is a nice warm green, probably a little brighter in this shot than in real life.  Curse you spaceship walls!!   And then there is my most favorite addition to the room.  The birch branch bowl, yep a bowl, on the right.  I purchased three of these guys to go in the room.  I found the inspiration on

Houzz

and I fell in love with them.  I showed them to the client who agreed.  I might have had some serious jealousy take over when I opened the box. I mean come on, they would look awesome in my house!
There are a few other items that I didn't get a picture of that will also be going in the room.  So, please check back with us to see how it all goes. 
If you enjoy these post just click up top there on the right and follow along :)
For information on my on-line design services, 

please click here

. For on-site design services {Hampton Roads, and Richmond Virginia}, please email

[email protected]

 for pricing and availability.
 

Seaside Interiors