8:59
I had a great question for
Geddy Lee
but I didn't get to ask it during the scrum after he won the humanitarian award last night.
I was going to be, like, "Geddy! You give and you give and you give. How about
taking
... a selfie with me?"
GOLD. That's fucking
gold
, man.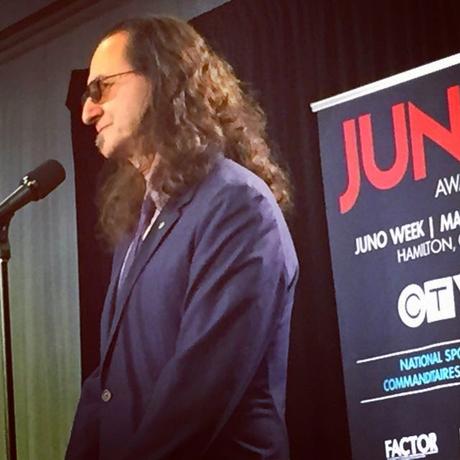 8:56
This dilwad Jacob Hoggard has really grown on me.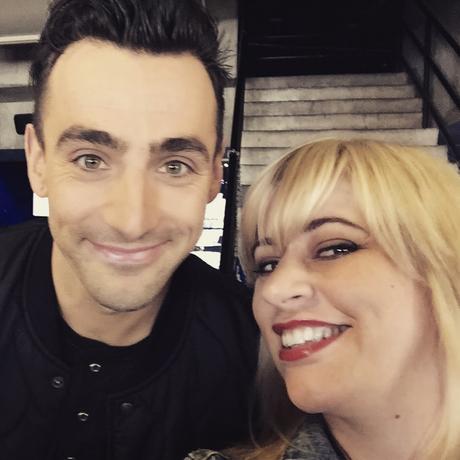 THANK YOU HAMILTON. Best city on Earth. And home to this fine head of hair and the human who grows it, Max Kerman of Arkells: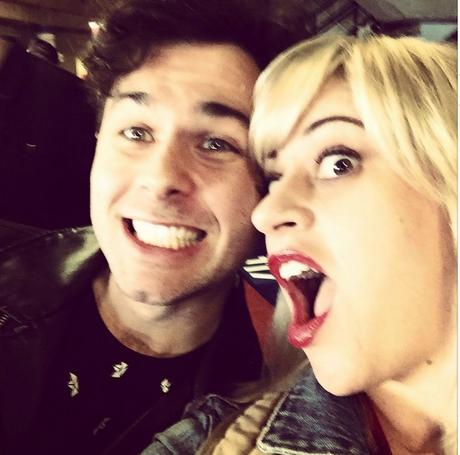 8:52
I cannot abide by Alanis' jacket. But her voice is ARRESTING. Seriously. Stunning.
I don't know if I can abide by Human Kebab of USS' loud suit, either. Thoughts?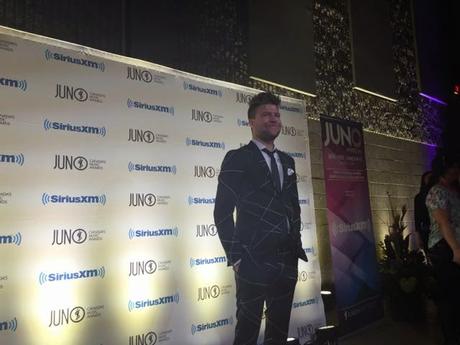 I do enjoy his hairdo, though.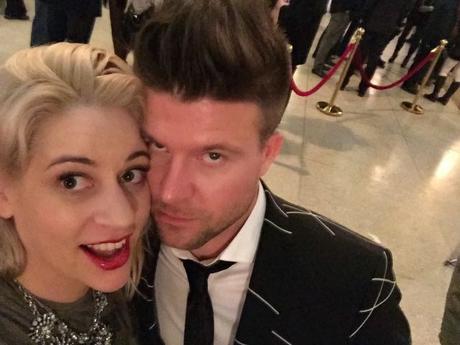 8:47
Diana Panton
won the red carpet at last night's gala. She also won Vocal Jazz Album of the Year.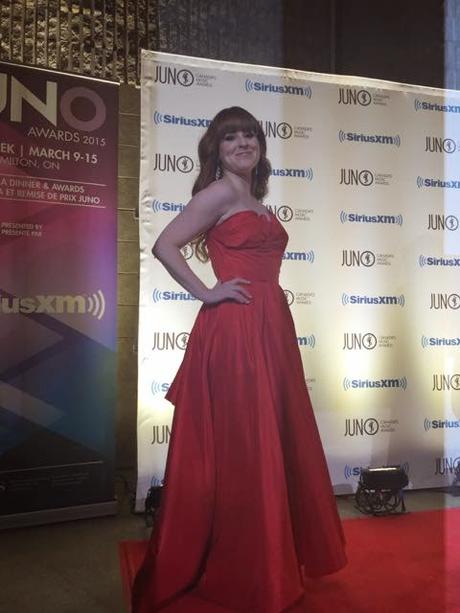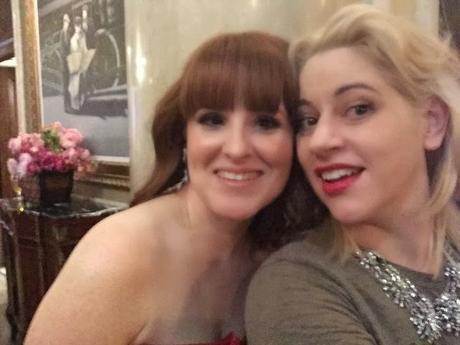 The gala is where they hand out most of the awards and where I focussed on not drooling all over
Devon Cuddy
. (Check him out in our
JUNO Cup
highlight reel
here
.) He is my Shawn Mendes, folks.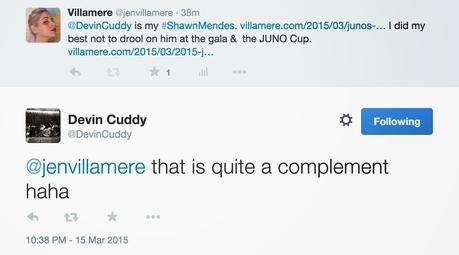 I'll spend the next 24 hours over-analyzing what that 'haha' means.
The best dressed man on the red carpet? There are a lot of contenders. Many, many hot fellas out last night, ladies. But I'm loving 
Quique Escamilla
's vibe so much, plus he won big with the World Music Album of the Year JUNO.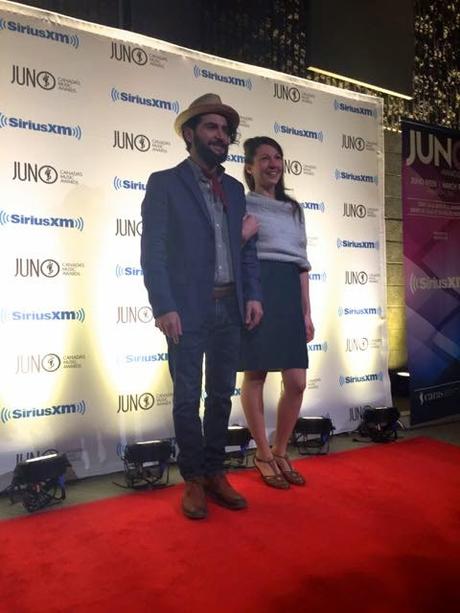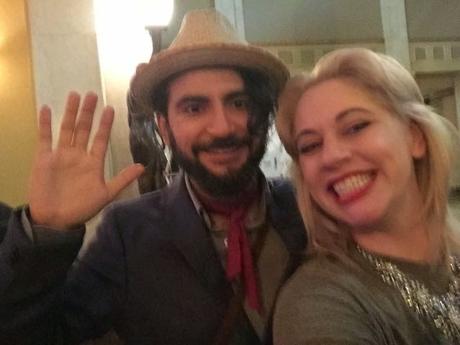 8:44
I think this show is wrapping up. 
Kardinal Offishall
is telling us this is the last time he'll be out, so it must be the last commercial break? He's using his time to plug his Twitter account. What a whore.
Here's mine
.
"I've shot Brian Adams," is something you hear photographers say backstage at the JUNOS. ("I've shot Britney, bitches," is something I say in return.)
8:36
Okay, so I arrived at the Gibson party last night, saw
Jake Gold
, realized the place was full of talented celebrities, got all nervous and shaky, so I sunk four bottles of Steamwhistle in 2 seconds to calm my nerves.
Smoked some unfiltered Cammels. I need the Lung Brush.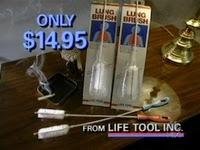 Here is
Matt Anderson
and
Steve Strongman
tearing shit apart on stage at the Gibson party.
Here's
Steve Strongman
rocking at a JUNOS press conference a few weeks back:
And here's what it looks like when these hugely talented national treasures are approached by a savagely drunken stranger and asked to selfie: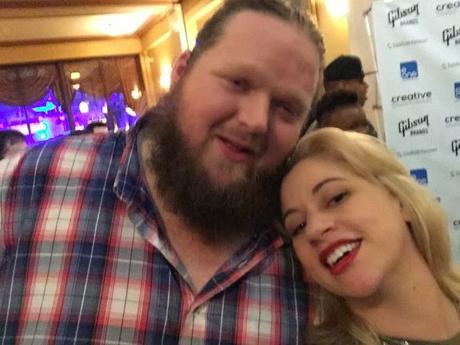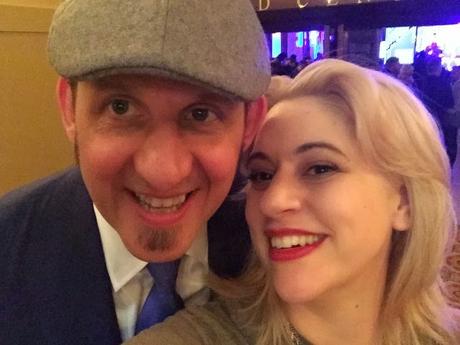 My apologies to these fine, patient men.
8:33
How long does this show go for? I have JUNO fatigue. I've covering this beat for weeks, yo.
Check out all our JUNO coverage here
.
You know who else is probably ready for the JUNO madness to end? Tim "Fucking" Potocic, chair of the Hamilton JUNO Host Committee and cool
Sonic Unyon
guy. He's too busy to pose on the red carpet, bitches. He's got shit to do.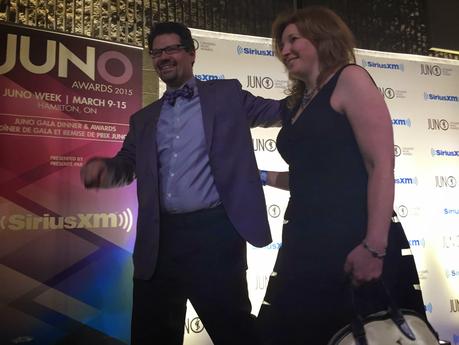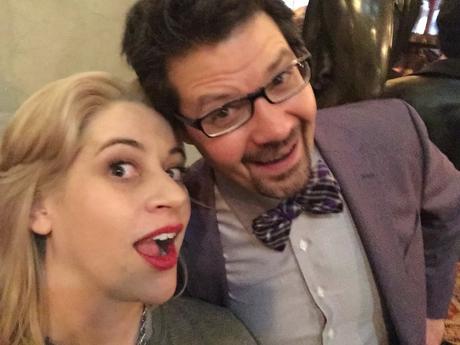 Sorry for talking about my hangover in front of your daughter at the poutine place today, Tim. I'm a scumbag.
I'm also wicked old to be partying this much. Fell asleep with my false eyelashes on last night. And with pizza in my mouth. (
Sorry fellas, I'm taken.
)
Do you ever think about how false eyelashes are like little wigs for your eyes? No? You don't? Okay. Good chat.
8:30
Eric Alper
, the ultimate music industry insider and also a wonderful, lovely human person. Also, his website is great so
check it
.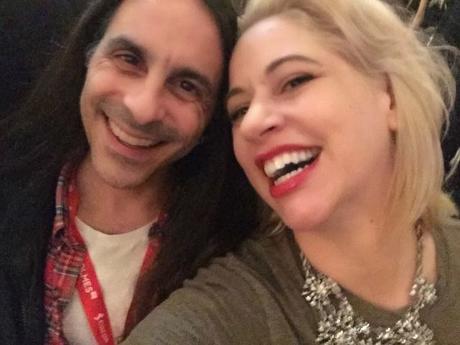 8:20
This guy from 
Shooting Guns
 was the worst dressed on the red carpet. Later, backstage at This Ain't Hollywood, I believe I told him he dressed like he had an acquired brain injury. Then we took this pic.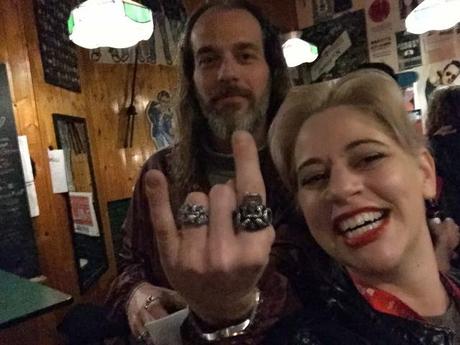 I'm pretty drunk in that pic. This Ain't Hollywood has Labatt 50 on tap.
8:19
JW-Jones
is a 2015 Juno Award Nominee, Billboard Magazine Top 10 Selling Canadian blues guitarist, singer, songwriter, and band leader. He looked AMAZING on the red carpet.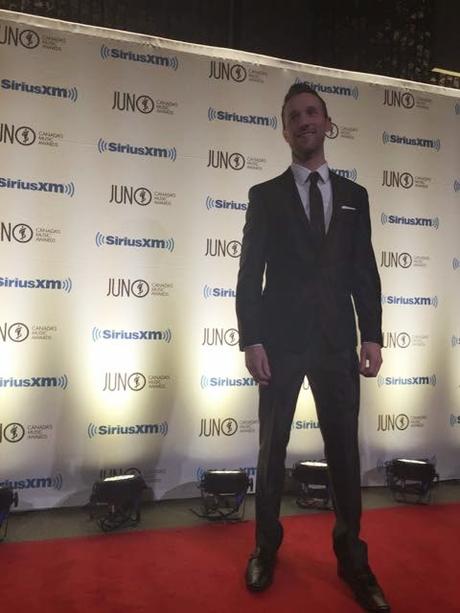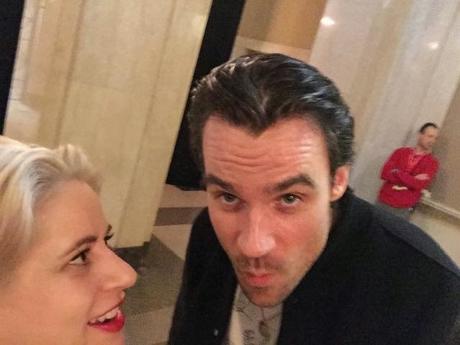 I'm taken aback by his radiant hotness. It is really something special.
It's commercial break time. I hope 
Kardinal Offishall
 tells me I'm special!
8:08
Kardinal Offishall
is the crowd-warmer here, blowing smoke up our arses during the commercial breaks. "You guys are the real stars tonight!" he just yelled.
I wonder if he "gets" "jokes."

Jacob Hoggard just said 'hashtag.' If you're playing the
JUNO Drinking Game
, you're fucking hammered by now. We totally nailed it.
Amanda Rheaume
was not immune to my obnoxious requests for selfies last night. I couldn't resist after seeing her shred it at
The JUNO Cup
. (She's in our highlights reel at the 13 second mark here.)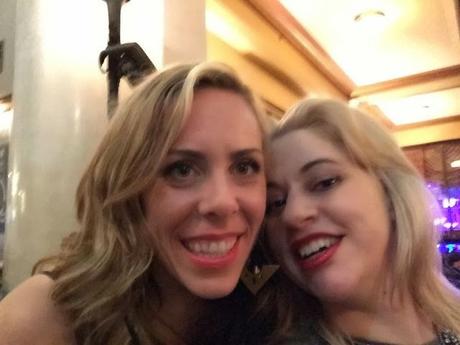 Here she is lookin' fine on the red carpet: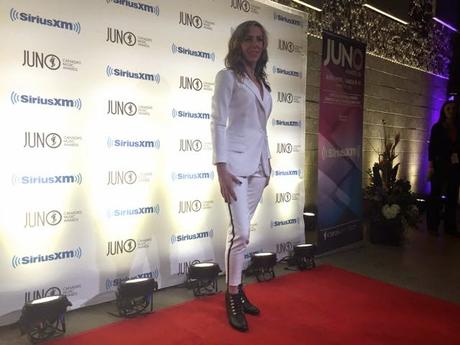 8:05
Did you know
The Weeknd
is blowing up the Billboard charts? Did you know the
Billboard Chart
is still a thing?
This press box smells like farts.
8:03
I accosted poor Terra Lightfoot
in the bathroom
.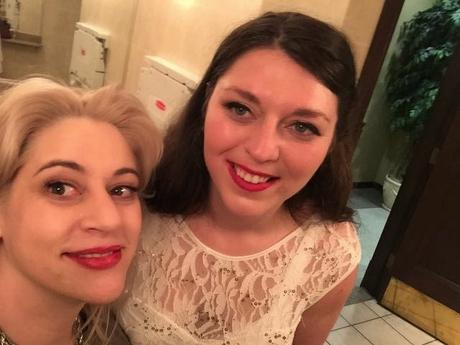 Here she is on the red carpet with her label master and a funny guy/sharp dresser who I like, Mark Milne of
Sonic Unyon
.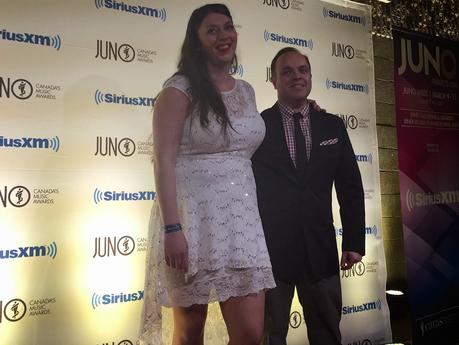 C'mon. How snazzy is that ensemble?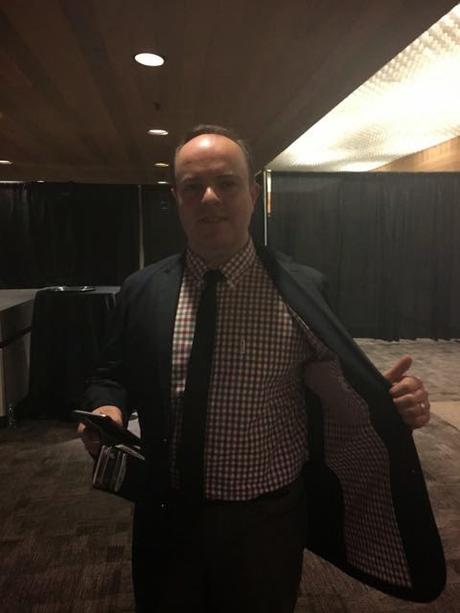 7:54
You know who looked surprisingly hot on the Gala red carpet last night? 
Steven Page
.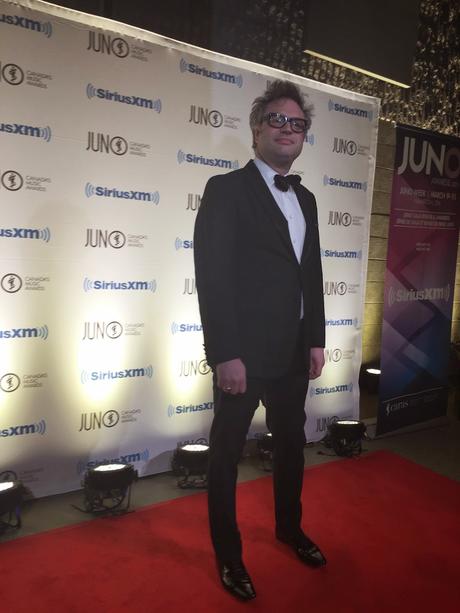 7:52 p.m.
Jenny here. Holy shit I'm hung over.
Did you guys hear the fire alarm go off during the opening number?
Live at the press box now after throwing a fit to get Wi-Fi.
Here comes a bunch of selfies I took last night at the Gibson party. You'll be able to see how I get progressively drunker and the stars get progressively more uncomfortable with me standing in their vicinity.
Also coming up, Alanis is going to blow up Twitter.