After my oldest spent YEARS using various grammar programs DAILY only to come to the end of the year and give us that 'deer in the headlights' look during testing we knew we needed help!
Three years ago, a good friend of mine suggested Analytical Grammar. She explained that you didn't do it everyday or year around. And, it WOULD stick. I thought she was out of her mind, but, being desperate for results I bought a copy of Analytical Grammar.
I was blown away with the results. My oldest, who was a middle schooler at the time,  retained so much information. The struggles over grammar and the daily worksheets were over!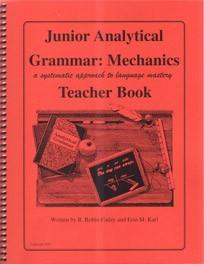 Junior Analytical Grammar: Mechanics
So, when we experienced similar results with our second born, I knew what we needed to do. Considering his age, we went with Junior Analytical Grammar. Utilizing their DVD instruction, this son flourished as well. When we got to the end of the curriculum I could either go into the next level (Analytical Grammar) or try Junior Analytical Grammar: Mechanics. Knowing that he was especially weak in the mechanics area, I opted for the Mechanics. I had seen great results with the first junior program and I wondered if it would repeat for the mechanics portion.
From The Analytical Grammar's website:
Jr. Analytical Grammar: Mechanics has been written in response to frequent requests from our customers for instruction in punctuation, capitalization, and usage designed for children younger than those who are in the third "season" of Analytical Grammar. Many punctuation rules are based on a knowledge of advanced grammar, such as is covered in the second "season" of Analytical Grammar; however, we have pulled together those punctuation, capitalization, and usage rules which students with a thorough understanding of basic grammar can comprehend.
Jr. AG: Mechanics consists of 15 week long units and is recommended for students who have completed either Junior Analytical Grammar or the first "season" of Analytical Grammar. As is the case with all our grammar instruction, each unit builds on the previous one in a "spiral" approach.
Our junior versions are a gentle, easy introduction to the concepts of English grammar, punctuation, and usage. They are straightforward to teach and fun for both teacher and student.
We also have optional DVD companions to use with Jr. AG and Jr. AG: Mechanics. These will feature Erin and Robin teaching the lessons and practicing with a few sentences from each unit. The DVDs will be a big help for those who either don't have the time or feel they don't have the background to teach AG on their own.
In 15 Units, Jr. AG: Mechanics covers:
Six comma rules (Items in a Series, Two Adjective "and" Test, Compound Sentence, Introductory Elements, Interrupters, and Names, Dates, & Places)
Capitalization
Titles, Dialogue, Quotations, and Possessives
Usage units on agreements and word choice
Plus:
Teacher "talking points" for students
Plenty of exercises to practice skills
Tests to evaluate progress
Complete answer keys and useful (but brief!) teacher notes
Our experience:
Initially, this curriculum didn't go as smoothly as Junior Analytical Grammar.  I suspect it was because we didn't have the teaching DVD with authors, Erin Karl and Robin Finley giving the instruction.   As a result, there were some units that he needed to repeat.  Fortunately, once he 'got' the concept, he didn't forget it!
I have to admit that the mechanics were challenging for me as well.  My extent of learning how to use commas while I was in school was in separating words in a series and before the attribution in a conversation.  Other than that, it was completely foreign!  I had never heard of these comma rules!
Regarding the teaching DVD's, they are not necessary to complete this curriculum.  When my oldest went through the upper level program, he did not need any outside help.  But because my 6th grader really enjoys and benefits learning from Erin and Robin, I will be ordering the Grammar Mechanics DVD and the DVD for the upper level program for him to use next school year.   
Check out Analytical Grammar for yourself.  I guarantee you'll be glad you did!!!
Click here to view a sample unit of Junior Analytical Grammar: Mechanics.
Disclaimer: I received a student and teacher manual free of charge in exchange for an honest review.  SPECIAL OFFER FOR Homeschool Circus SUBSCRIBERS through Jan. 31 Early American library is free with purchase of any curriculum CD. Use code
LISAtips
for a $19.99 discount when you buy any curriculum CD Library plus Early American library. This post written and property of Homeschool Circus and can be found at: www.upatdawnreadytowork.com.