SUMMER IS MEANT TO BE HERE!
Recently having four seasons weather in one day, so who knows what summer we are in for! The Euros in France is keeping England on the edge of their seats, also the referendum is making us all debate more than we have ever done before. The next week will be a very interesting result on all accounts.
RTS have just successfully completed one of their major annual Events collection of waste for; the "Blue Riband" Epsom Derby. Read more as a Case Study here . If you have events which we do not currently collect waste for why not give us a call straight away. We are responsive and reliable in service  to changing needs and will work around the clock to make your event as successful as possible as far as waste and recycling is concerned.
---
Let's Talk Rubbish with RTS Waste
You put your bins and bags out and RTS take the rubbish away, but have you ever wondered what happens to it after that? On average RTS might collect between 1100 and 1200 tonnes of rubbish a week equivalent to 3 Boeing 747 aircraft at take off.
The waste will go to a choice of destinations depending on what it is and the location of your collection. The majority of waste in London will go to our own licenced waste transfer station in Bermondsey next to Millwall football ground. Here it starts the next part of its journey. Bulky items from skips and ROROs will be extracted and assessed for best reuse or recycling. General waste and DMR (Dry Mixed Recycling) taken to our licenced MRF (Materiel Recovery Facility) in Swanscombe Kent for further processing. Kent Waste will go straight to the Swanscombe Waste Transfer yard.
PROMOTION
This summer RTS are promoting having a Free Waste Audit of your Wheeled Bins and Bag collections.  Our Business Development team will book an appointment to visit you, we will explain the reasoning behind having separate collections and how it benefits you. If you want more information on separate glass and food collections please contact our business development team on  0207 232 1711 or   s[email protected]
RTS currently offer separate glass and food collections to customers which allows cleaner recycling and zero waste to landfill solutions. The food waste is sent to Anaerobic Digestion which uses micro organisms  to breakdown the food waste into biogas and combusted to generate electricity and heat. Glass is deposited straight to a glass-recycling outlet for treatment into recycled aggregates.
 See our great video to show you more how RTS process the waste
HERE
---
More about Recycled Materials
Card and Paper is baled and sent to paper mills
Water and chemicals break down the paper and cardboard to make pulp. Screens remove the debris before the paper is cleaned then the mixture is pumped into a machine to form sheets. The paper is  pressed and  passed through large heated rollers before being rolled in to a huge role of recycle paper. Recycled paper is used for newspapers, writing paper, cardboard boxes of toilet rolls.
Wood
The closely allied activities of demolition and construction produce around 750,000 tonnes of wood waste every year. Packaging waste (pallets and crates) produce a further 670,000 tonnes whilst it is estimated that households account for 420,000 tonnes of wood waste per year.
The Wood Recyclers Associations (WRA) categories wood waste in four main grades:
Wood waste can be collected via a number of routes depending on its source, amount and  Grade.  Either call us for advice or check out the different containers and services RTS can offer – Skip  Hire, Roll On Roll Off Once the grade of wood is established the material is processed to ensure there are no nails, paints, glues, plastic rubber attached.
Grade A "Clean Wood"
Grade C "Fuel Grade" (Grade A, B) +
Grade D "Hazardous Waste" (Grade A, B, C) +
The Recycled Uses Of Wood Are:
Exported Biomass
Biomass/ Energy UK
Pathways and Coverings
Mulches and Composts
Animal/Poultry Bedding/ Equestrian Surfacing
Export Panel Board
Panel Board
The wood that comes into RTS Waste is mostly Grade C and will be chipped and used in other processes.
Non-Recyclable Waste 
Items such as nappies, polystyrene, sweet packets, china or pottery, and some cat litter can go to landfill where it is left to rot in a controlled environment, alternatively it goes to a local energy recovery facility in London. That rubbish is sent to generate electricity for the National Grid. This is classified under Recovery in the Waste Hierarchy. RTS intend to help re-educate our customers what happens to the waste to enable you to make choices of services and take control of which bins you put what waste. Right Waste Right Place is a campaign run by the UK.  Recently RTS  issued new labels,  placed on our Dry Mixed Recycle Bin lids.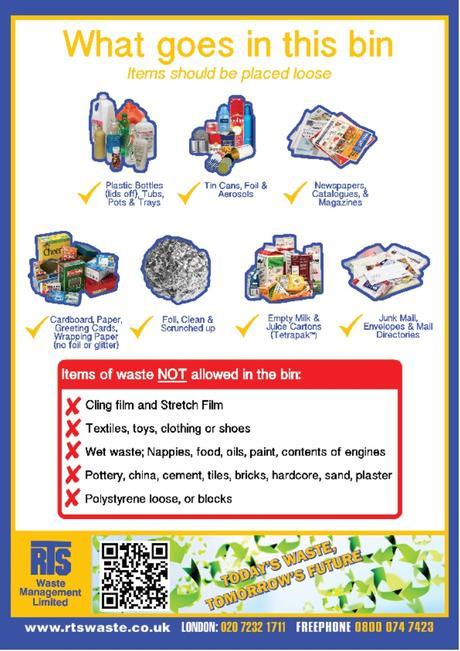 Zero landfill IS achievable! 
---
 Separate Waste Collections Saves Money
Leading on from the the above article RTS want to emphasise the NEED for our customers to separate their waste. You may have received emails from us requesting to come to your site to do a waste audit.
RTS offer General Waste, Dry Mixed Recycle and Glass collections. It will be CHEAPER for you and better for the environment if you separate your dry recycle materials.  For Orders, Quotations or Queries call 0207 232 1711
Recently, we have noticed there has been a rise in contaminated loads and this has led to RTS performing checks on each bin that we service. If the waste is not correctly separated then there could be additional costs incurred. Please take time to put the right waste in your bins.
DRY MIXED RECYCLING: Cardboard, Paper, Plastic, Glass, Cans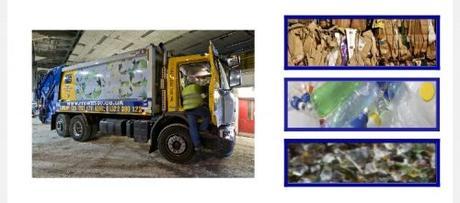 NO wet waste, NO food waste, NO hazardous waste, NO nappies, NO textiles, NO shoes, NO china or pottery, NO polystyrene. 
For more information, visit our website:  RTS Waste Services
---
Our Extended Family 
This edition of our headline NEWS we would like to introduce you to our newest member in the Sales department, some of you may already have met here;
Amme Lloyd as Business Development.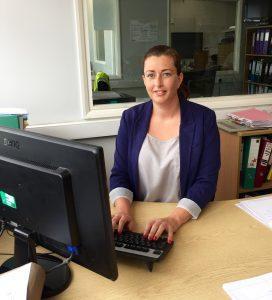 Trade Waste Business Development
Although Amme has only been with RTS since April this year she has been trained to perform waste audits and has her feet not so much under the table but worn out, by visiting quite a few existing customers already to introduce herself and promote the glass rounds.
Amme is a proud mother of two very active sporty children and when she is not working Amme is fully supporting them on the side line of football, the boundary of a cricket field. Weekends are a bundle of fun with camping or Amme style of glamping with friends! A secret Home and Away fan is definitely in her nature in more ways than one. "Not sure that is a good confession to make Amme?"
Continuing on the travel theme, when growing up Amme would have loved to have been an air stewardess, exploring the world. Swapping the air for the road instead she loves meeting people and is very well suited to her new role and would like to meet all the trade customers and see if RTS can help you even more than we already do.
The Sales team is small and offers a very friendly approach. RTS will consider multiple solutions to waste collections that are environmentally friendly but also best practice and suits our customers as a priority.
Call 020 7232 1711 option 3 or email [email protected] to make an appointment for a waste audit. 
Michelle is Human Resources Administrator
Michelle would have been with RTS Waste for 3 years come September and takes most of her lead from  working closely with the Finance Director Jill Redmond. Although Michelle thinks the best job in the world is that of a comedian, within RTS Michelles' role  is not a joke. Introducing structure, procedure and best practice is something Michelle is proud to be part of. The structure of staff job descriptions, objectives and performance reviews all helps our company to work more efficiently to serve you. The more testing role of disciplinaries and grievances is something that none of us like to think about.
Although Michelle didn't have any aspiration for herself until later life when she wanted to become a counsellor, which she has accomplished before joining RTS.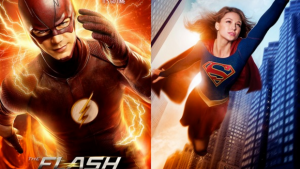 Michelle is a parent of a 9 year old boy with whom she loves watching The Flash, What is that … Michelle pretending to be a costumed superhero crime fighter with the power to move at superhuman speed. Unfortunately that superhuman speed will not help in reality when she is taking part in the Great North Run half marathon in September " ahhh that is only 3 months to go" she says back!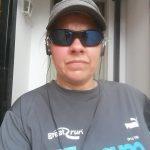 Michelle Frewer
For any of you who have run a marathon or half marathon before we are sure you will wish Michelle good luck and a great cause  to help her friend run her first half marathon.
To finish off Michelle was asked " What's your favorite joke then ?" response being an old Les Dawson classic "I haven't spoken to my mother-in-law for two years.  We haven't quarrelled.  I just don't like to interrupt her" Very funny Michelle
RTS always accept CV's and keep them on file if anyone is inspired to have a new career in Waste please email [email protected]