Last week we took a family vacation to Colonial Williamsburg - what fun we had!!  Our 4 year old is very interested in history and had a blast watching the demonstrations and touring the old houses and jail.  Of everything there to look at and do, all Madailein wanted was a straw bonnet and to take a horse ride!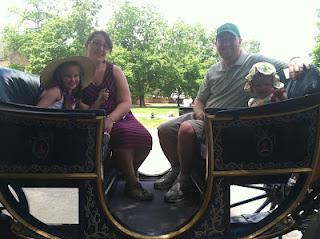 I was hoping to see some crafty demonstrations, but no such luck on the day we were there!  We did get to see how they make wooden barrels - which looked super difficult!
With May being such a crazy month with recitals, garage sales and vacations I did not get much crafting done!  I was very pleased though with the scrapbook paper trees I made for Mother's Day.  :)
This month should be a bit more calm and I'm going to go into this month with optimism to get tons of crafting done!! 


June Crafting Goal #1

- the silk flower collage painting I've been wanting to do the past few months.


June Crafting Goal #2

- paint another tree in Madailein's room to finish out her super cute Owl Bedroom.


June Crafting Goal #3

- paint Madailein's coat tree to match her bedroom (it still looks babyish from her nursery!)


June Crafting Goal #4

- drip-painting terra cotta pots.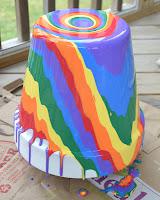 I came across this really cute project at http://inlieuofpreschool.blogspot.com/2012/05/something-borrowed-rainbow-pour.html and fell in love!!  Cannot wait to try this one!
 Have you tried any new projects lately?  What are your goals for June?
Happy Crafting!