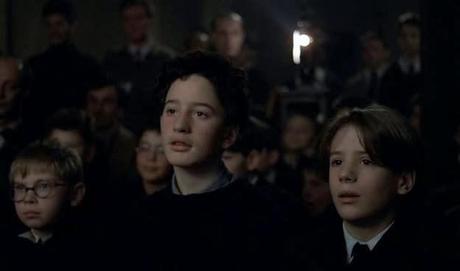 For various reasons, World War II has been a topic that fascinates me a lot and it continues to do so to this day, even after reading many books and seeing films covering multiple facets of this monstrous event. WWII was a kind of event that tested everyone it touched to the limit of their existence. I believe the way we respond in the event of great adversity is what really defines us as humans and this event offered many such opportunities. I am usually game for anything that involves WWII but if it is anything as revered as Au revoir, les enfants(1987), it validates my inclusion in Blind spot list.
Though it didn't go down exactly as we see in the film and almost certainly not with Malle at the center of it, Louis Malle, who directed this film, witnessed events this film is based on first hand. Three Jewish students and one Jewish teacher were captured from Roman Catholic boarding school Malle was attending when he was 11 and sent to concentration camps along with their head master who suffered for harbouring them. His fateful last words while being led away by officers, "Au revoir, les infants!

À bientôt!

", make for title of this film.
This is a film about budding friendship between two boys which gets clipped under very sad circumstances. This is story of Julien Quentin and Jean Bonnet in Nazi-occupied France in 1944. Bonnet is a sort of recluse, even more so since he is new to Julien's Catholic boarding school.

 

Julien isn't the most popular guy either but at least he is comfortable with most everyone else. Bonnet goes through the same old routine that I imagine every person trying to break into close-knit group like boarding school can be has to go through. But slowly, he and Julien get closer and become very good friends; only to have to face dire consequences of it.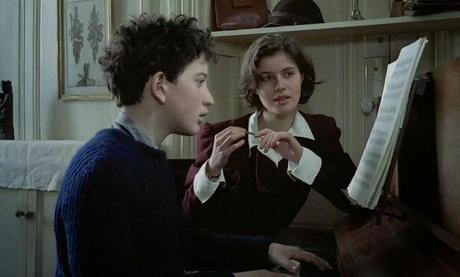 Maybe I am more like Julien in that way but to me, it wasn't obvious from the start that Bonnet is a Jew hiding from getting captured. I mean, it was obvious that something was wrong by the way he is introduced but not what exactly. Julien never knows difference between a Jew and a gentile either. If I had not known what this film is about, it really would have been a big surprise for me too to figure it out. What's more surprising for me is throughout the film, no one actually directly tells us so either. That is until Nazis come knocking on school doors looking for them. It becomes all obvious then!
For first half or so, this movie is about an outsider trying to fit in as best as he can and finding an unlikely friend in someone who never really became an insider despite being part of that world. A Jew in hiding, Nazi occupied France or 1944 have nothing to do with any of that. Two boys form a tenuous relationship at first which only gets stronger and stronger with every experience they share. And then doubt creeps in. Julien finds out Bonnet is not his friend's real name. He sees him praying one night and that adds to it. I am not sure if he ever puts two and two together, maybe he does based on the way he looks at Bonnet in the restaurant, but once again Malle is content with ambiguity.
Among all this ambiguity, however, there is one moment which is as clear as sunlight. Even though Malle has said that actual events did not transpire exactly like he showed in a film, this is a moment that will haunt you for the rest of your life. When German soldiers get into their class asking for certain Jean Kipplestein, Julien remembers that name to be his friend's and with boyish curiosity tries to steal a glance at him past Nazi officer. Immediate gasp left my lips. That one look of curiosity blows Bonnet's cover and leads him to his eventual death. Like every other emotion that Malle keeps in check, he never makes this film about over bearing guilt of unknowingly sending someone to gallows but that's what hangs over it in the end.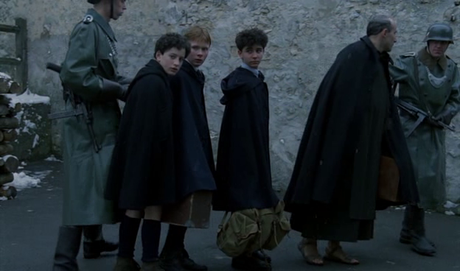 Malle never goes for over sentimentality. Even in the end when Nazis knock on school door, where he had every chance of being melodramatic, he keeps melodrama in check. I don't want to take any cheap shot at Spielberg or Schindler's List(1993) because I love that film and even think it's better than this one but I do want to mention it if only for stark emotional contrast in the way they handle similar situation and still make it just as devastating. Schindler's List is a relentless, full-on attack on your emotions that turns you into a blabbering mess. You don't even realize the effect Au revoir, les enfants has on you almost till the last moment when those fateful words are uttered. It totally stumped me but only response it got out of me was a "Wow!" and sigh.
Malle himself considers this to be his most important film. It most certainly his most personal and given the subject at hand and, even more importantly, almost autobiographical nature of this incident, there should not be any doubt about that. I haven't seen most of Malle's work; in fact only Atlantic City(1980)which I saw only a couple of days before this one. But given the reputation of rest of his work, this might even be his best one and that is not a slight in the slightest.