Evening all,
Ever since my last post on EURUSD, the pair has taken off very quickly. It was so quick , and I was so busy, that I did not capture most of the move – to my utter dismay. In hindsight, the picture looks very clear – as it always does in the rearview mirror. EURUSD made a very clear-cut bottoming pattern. Not only do we have an inverted head and shoulders, we also have a straight downtrend that turned into an uptrend – a V-shaped price action. Even though it took a long time to form – flattening the "V" – it is so clear to even a person with muddied spectacles. What seemed like an "easy, ride-the-reverse-long-term-trend" play did not bode well with me. I constantly heard a voice telling me: seriously? an easy set-up in the forex market? Sometimes the better-looking a chart, the harder it is to trade! But the solution to a simple problem is just as simple: do not rely on irrational thinking driven by emotions that are not even summoned by intuition that may have been developed through experience; or, to quote trading fundamentals: keep your emotions out of trading.
In the chart below, I draw out three circles to show a conventional "3-point inverted head and shoulders". If you have been following me for a long time, you will know that I do not identify the popular pattern by looking at 3 peaks or troughs. I look for price regions - price congestions. But the picture is so clear in EURUSD that there is almost no way anyone should be short this currency pair. At least not in the last 6 months.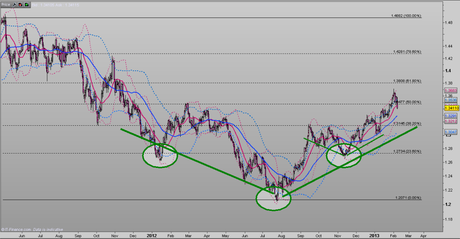 Enough of the hindsight analysis. So what do I see now on the EURUSD chart?
As a believer of trend-following, I obviously like the strong uptrend. There is nothing at all on the chart to tell me to turn bearish in the mid- and long-run. The recent slide in EURUSD should be seen as a healthy correction. Profits booked, and the markets waiting for some news to push it in one direction. Nearest support is at 1.34 for two reasons: one, that was a recent resistance that should act as a lightweight support for now, and the whole-number psychology. I really like the bullish picture on EURUSD. But therein lies the danger, or rather, dilemma. EURUSD obviously looks bullish to everyone except the ultra-contrarian. One risk I see for a mid-term trend trade is that the market sometimes dives down and kills those who try buying on momentum. This is the market's way of reminding traders that there is no easy money to made. The market throws curveballs now and then so that charts do not move in one line after another. This is where money management or trade management comes in to save traders in the long-run. While I favour jumping on the bandwagon of risk-on trades like a long EURUSD, beware of the market taking a bigger correction in the days ahead.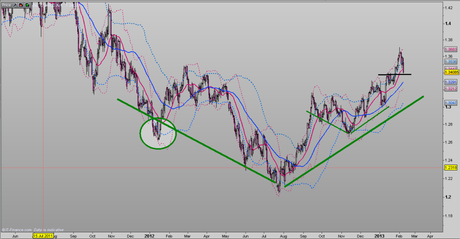 All analyses, recommendations, discussions and other information herein are published for general information. Readers should not rely solely on the information published on this blog and should seek independent financial advice prior to making any investment decision. The publisher accepts no liability for any loss whatsoever arising from any use of the information published herein.