Hello and happy Friday, yes that's right we have made it to the end of another week! It has been a bit gray and rainy here today, which at times has made me feel a bit meh almost beige, so I decided to do what any sane person does- throw on a super duper casual outfit and jump around in my back garden!
I seem to be having a run of luck at the moment in the winning things department, you may remember I won an outfit from Pink Clove via a Facebook giveaway well guess what I won something else from them as well!! They featured me on their FB page as part of their Pink Clove Passion and as I managed to get over 100 likes on my photo I got to choose a sweatshirt from their new range!
So here is my uber casual Friday lounging around the house look!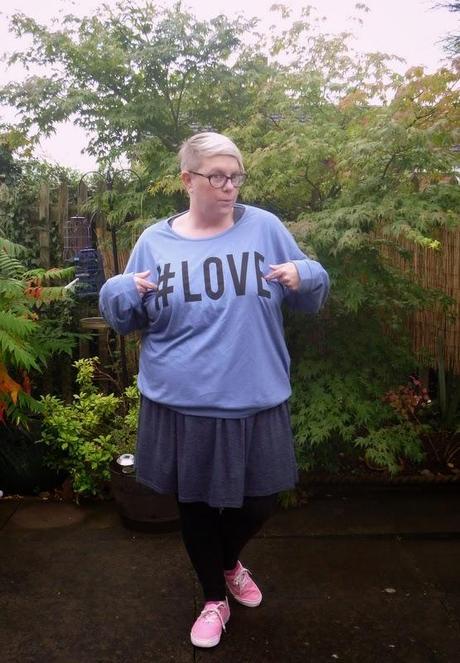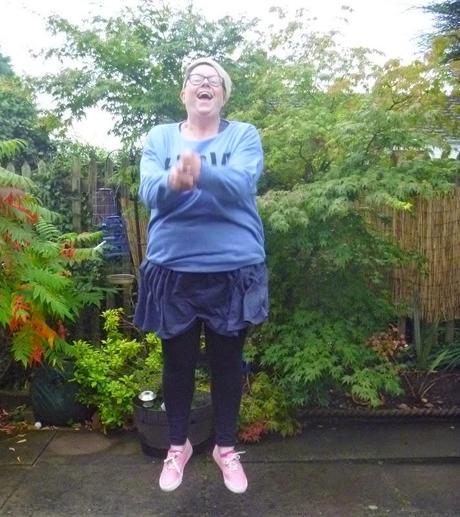 I #LOVE this sweatshirt and as I also love hashtags I thought this was very appropriate for me! I decided that rather than just team this with leggings or jeans I would throw it on over a jersey dress which I had been wearing all day for a different look.  The result well yes it may not grace the catwalk but I like it and it is so comfy!!
I sized up and went for a 24 as I wanted an oversized slouchy feel but it isn't as generous in sizing as I would have liked and has quite a tight band round the bottom which I have been trying to stretch!! The only bit that is oversized on me are the sleeves which are very generous and come down over my hands!
I also want to sing the praises of the Aldi leggings that I am wearing, they are so good I have worn them to death and they still refuse to bobble between my thighs and wash really well. I just hope and pray that Aldi bring them back again as another special buy as I really want another pair and at £4.99 they are fab value.
Outfit Details
Sweatshirt Pink Clove
Dress worn underneath New Look Inspire via Ebay
Leggings Aldi
Trainers New Look