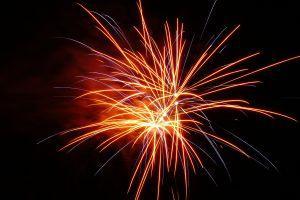 As Fourth of July weekend is fast approaching, it is a great time to remind everyone of the dangers and the accidents that have typically made our Independence Day one of the most dangerous holidays of the year. Just last Friday, a 10-year old St. Louis boy was involved in a firework accident that resulted in the loss of four of his fingers.  The Fourth of July is typically the most dangerous holiday across our country due to the amount of alcohol consumption and then the operation of cars, boats and personal watercraft. However, the use of fireworks especially among young children can be dangerous without the proper adult supervision.
Honestly, I won't even think about fireworks at my house but then my children are ages 3 and 5. My five year old thinks shooting fire crackers would be fun, but reading articles like the above 10 year old victim  makes it a "not do" again this summer.  No matter how close I supervise my five year old…………someone will get burned—that might be me, of course.  Small children should never be left alone to shoot fireworks. And, I would debate with many on the proper age for kids to get  involved with fireworks. I have a lot of memories of bottle rocket wars and friends that were injured in my childhood horseplay—I'm sure we all have those memories. And, they are fun memories………….until someone gets hurt.
Around 200 people go to the emergency room per day in the months around the Fourth of July.  All four deaths related to fireworks in 2011 involved 'homemade" fireworks according to the Consumer Product Safety Commission.
Let's keep this Fourth of July safe and do the following:
Do not allow young children to play with or ignite fireworks
Avoid buying fireworks packaged in brown paper as this is often an indicator that the fireworks were made for  professional displays and could be a danger to consumers
Always have an adult supervise firework activity. Sparklers burn at temperatures of 2,000 degrees-hot nough to melt some metals! Back up a safe distance as soon as a firework is lighted!
Never place any part of your body directly over a fireworks device when lighting the fuse. Back up to a safe istance immediately after lighting fireworks.
Do not try to re-light or pick up fireworks that have not ignited fully.
Never point or throw fireworks at another person.
Keep a bucket of water or a garden hose handy in case of fire or other mishap.
Light fireworks one at a time, then move back quickly.
Never carry fireworks in a pocket or shoot them off in metal or glass containers.
After fireworks complete their burning, douse the spent device with plenty of water from a bucket or hose before discarding it to prevent a trash fire.
Make sure fireworks are legal in  your area before buying or using them
While I love a good fireworks show, I leave it to the professionals. You can never really be "too safe" around fireworks especially when kids are involved. Child injuries during this time of year increase…..let's put an end to that statistic.
The Fourth of July is a dangerous weekend not just because of fireworks but because of motor vehicle accidents and boating accidents that occur and many of those accidents happen because of factors such as increased traffic but also because of alcohol consumption. The Fourth is a time of celebration in our country.  Picnics, barbeques, lake fun, boating and parties are a part of the holiday celebration. I will be enjoying the Fourth as well, but it is so important that you do so with a little prior planning and responsibility.  Nothing ruins a holiday like serious injuries.
If you have been involved in an accident involving a car, truck or boat, you may need an attorney. Personal injury attorneys at The Cagle Law Firm are available seven days a week, and yes, even on the Fourth of July to answer your questions.  If you have been seriously injured in an auto accident, then you probably will need an expert personal injury attorney. If you were not injured, then you probably do not need us. Making the determination on whether or not you need an attorney is never easy. Call our attorneys at (314) 276-1681 or  toll free (800) 685-3302 for your free consultation.
Sources: Boy loses 4 fingers in firework accident. ABC 17 News. 6/23/13
CPSC Science: Firework Injures. Customer Product Safety Commision
Link to this post!July4th–Can Be the Most Dangerous Holiday! Stay Safe w/Fireworks" onclick="javascript:this.select()" readonly="readonly" style="width: 100%;" />