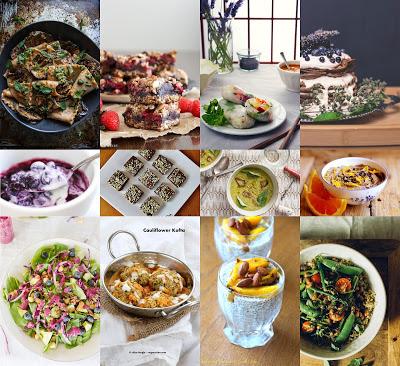 So here we are again for my monthly round up and I know it is a bit later than expected again but it is worth the wait I have some truly amazing recipes for you. As I am currently on the 10 Day Detox Diet I have tried to keep the recipes healthy and with minimal amounts of sugar but no one's perfect! The recipes are detailed below starting at the top left hand corner and working in a zigzag:
The Heather Christo blog is fast becoming one of my favourites with so many amazing recipes on it I find it hard to include only one each month but this Pasta with Grilled Eggplant, Smokey Tomato Sauce and Basil Walnut Pistou was easily my favorite with loads of great ingredients that are sure to have you feeling good all day. I would love to try it with vegetable ribbons instead of pasta too.
The next recipe is a bit of a naughty sweet treat for the month but it does have a load of great ingredients too. I just love these Raspberry Chocolate Chunk Bars from the Bakerita and are definitely stored in my brain for when I want to treat myself.
I love summer rolls of all kinds apart from the fact I still can't get to grips with the rice paper wrappers, it is a bit like a mental block but if you really want to try a great one then give these Vietnamese Summer Rolls with Easy Peanut Dipping Sauce from Pickles 'n' Honey a try. To be honest I think the peanut sauce swayed me, anything with peanut butter in it and I am there.
The Vegan Architect is a new blog to me and it is looking good with some really original recipes. These Lavender Lime Waffles are so different and would be perfect for when you want to make a special breakfast. I have had some dried lavender, unopened in my spice and herb cupboard for ages with no idea what to do with it, so now I have some inspiration.
The next recipe is this beautiful Easy Chocolate Orange Mousse from Divine Healthy Food. It is such a simple recipe with very little added sugar, just the natural sweetness of the oranges, the perfect quick make dessert. If you have not seen it before you should check out this blog there are loads of great recipes on it.
Soup is the best food when you are on a diet, it really fills you up but for so few calories and I just loved this Zucchini and Basil Soup with Fried Shallots from Dishing up the Dirt, it is so simple and so full of goodness, another real winner from a great blog.
I have also included a great raw recipe for you in the way of this Raw Hemp Seed Cacao Fudge from Fragrant Vanilla Cake. It is so easy to make and full of goodness that you can be nice to yourself while enjoying a sweet treat. You will find loads of other great raw and not raw recipes on this blog.
If you want something sweet and natural then you cannot beat this 3 Ingredient Blueberry Soup from Amuse Your Bouche plus the simplicity makes it even better. I was looking at this recipe and wondering if you could make it even more natural by leaving out the agave and using something like lucuma or maca to sweeten it, might be worth trying and of course I would use a vegan yogurt with it.
Now when you are eating healthily then any recipes that help that along are invaluable and I just fell in love with this Antioxidant Salad with Blueberry Tahini Dressing from Eating Bird Food. I think I will be making that dressing and using it on everything from now on.
If what you are after is Vegan Indian Food then you need not look any further than Vegan Richa and this Cauliflower Kofta Curry is another real winner. As a lover of all Indian food I just love this website and get so much inspiration from it.
Another little sweet treat that is not as naughty as it could be but still to be savoured on rare occasions is this Caramelized Mango Chia Seed Pudding from The Sweet Tooth Life. As the name suggests, if you want something sweet then this is a good place to start.
And finally.... I am finishing up with Asparagus and Snow Pea Medley with Black Eyed Peas from My California Roots. Even the name makes it sounds beautiful and it looks beautiful too, such a great recipe for a really hearty meal.
So that is it for all of the recipes this month I'm sure you will agree it is a pretty amazing selection and is certainly making me hungry just writing this. So the reasons for the late delivery this month are firstly I was coming back from France so that massively delayed everything and then I have been on my Detox Diet where I am supposed to be having a digital detox too (not going so well) and I have been working on writing up my case study for my Yoga Sports Coach qualification. At the moment my desk looks like I have just dumped the bin on it, I know the order of things I am not sure anyone else would though! Having said that I have some great other bits for you this month and have put them below:
I suppose when I'm giving you my highlights of July I really should mention my stay in France as that is where I was for the whole of July. The problem is I have already told you lots about it and right now writing this it feels like a lifetime ago. The one thing I will tell you about is on our last night in France we decided to treat ourselves and stay in a 5* hotel that had a spa and have a massage. It was one of the best massages I have ever had but the best thing about it is they put a little bed and special bowls out for Freddie (our cat). He loved it too, wandering around checking the room out with a look or superiority on his face, I am not quite sure how he knew it was luxury but he did.
The first article from around the web I am going to share with you is this one from Mind Body Green on 10 Exercises to Prevent Running Injuries this is quite fitting for me as I took up running when I was away and am now running a lot everyday so this could be very helpful.
There are so many sites out there that want to give relationship advice but this article on Tiny Buddha gives some of the best love advice I have seen and is well worth a read.
I read this fascinating article on The Buddhist and the Neuroscientist on The Buddhist Channel. It blows my mind that they are starting to seen the things that happen in the brain when you offer compassion and why that type of loving meditation and the act of giving could be what we all need to be happy. I'm sure there will be more to come.
As I explained in my last post, I am on a mission to shift the weight that I put on after giving up smoking (and it is going quite well at the moment) and I cam across this post on Finding Grace in Weight Loss on Delish Knowledge and loved it so had to share it with you.
In another post from Tiny Buddha, they look at Forgiveness as a Choice and a Process which I think we could all learn a little bit from.
Finally I wanted to share a video from Ricki Heller on What "Sugar-free" Really Means and allow you to join the debate too.
That's all for this month, enjoy the rest of August and I will be back soon with some other great bits for you.