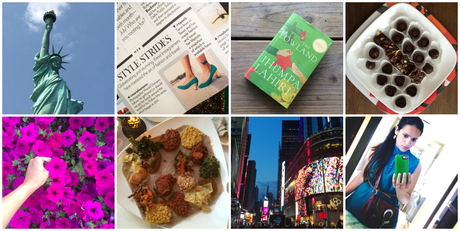 This was a month of NO OUTFIT POSTS! I was trying to achieve that in April, but was unsuccessful because of this haircut, but held my ground this month. Of course there were still at least three posts per week just without me posing!
July has been an eventful month:
I got stuck in New York on my flight back from India (

oh! yes, I was in India in June. You might not know if you are not on Instagram

) but had a BLAST!

Then I was pretty busy following FIFA finals (for the record, my favorite teams didn't win)

I got a humble shoutout in

July

VOGUE INDIA

Celebrated my

seventh wedding

anniversary

and tried 

Ethiopian

 cuisine for the first time.

Made

second trip

to NYC in the same month. Did a lot of touristy things after 15 years or so. 

Finished reading 'The Lowland' and 'The Fault In Our Stars'.

Let me know if you would like to do the book reviews?
As far as the blog goes, the post on 'Planning a move' was the most popular one following by the 'Common excuses for not working out'. Last but not the least, click here to find out the winner of the AMI Clubwear Giveaway. Thanks to everyone who participated. I might have another Giveaway for you in August and definitely getting back to outfit posting. Stay tuned!