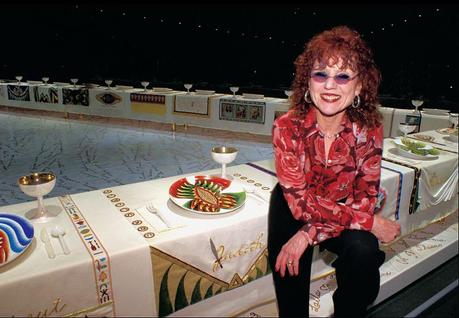 Judy Chicago, posing with her famous installation "The Dinner Party"
Judy Chicago is one of my favorite artists. So, when I heard she was exhibiting in London for the first time since the 80s, well, I was rather excited. The Ben Uri Gallery in London seemed like the perfect place for her return to the country, having 1300 works in their permanent collection by women artists. Many of these works are currently focusing on themes such as autobiography, erotica, feminism, the nude and issues of masculine power.
Which is precisely what Chicago is most well known for. During the 1970s, she founded the first feminist art program in America, aiming to incorporate these themes into the realm of art. This was a time when the personal was truly political and Chicago encouraged and inspired her students to create feminist artworks that validated women's experience.
On entering the gallery, I was instantly hit by Chicago's famous works. On the left wall, recent dynamic lithographs such as Into the Darkness (2008) and Signing the Dinner Party (2009) stood opposite her pioneering feminist works, such as Red Flag (1971) and Menstruation Bathroom (1972). This was a nice touch. For example, the iconic image Peeling Back (1974) on the right echoed the Return of the Butterfly (2009) on the left, mirroring the core values of the initial work. This sense of dialog seemed tangible, connoting the idea that these conversations are still vital. The writing underneath Peeling Back reads, "In this transitional image, I "peeled back" the structure to reveal the formerly hidden form. What a refuge to finally say: 'Here I am, a woman, with a woman's body and a woman's point of view.'" After thirty or so years, it appears there is still many more peeling back to do and many more layers to explore. Also in this room were the ethereal smoky goddesses from the series Women and Smoke which drew on the "eternal power" of womankind. Helen Chadwick's In the Kitchen (1977), which deals with issues of domesticity and confinement and reputes the idea that women should be confined within the home, was placed next to Chicago's expressive and free nude figures dancing in the mountains, making it seem impossible to disagree.
As I walked down the steps to the lower floor, it felt like moving into a more private, personal space. At the top of the staircase, a photograph of a pouting Emin wearing a 'This is what a feminist looks like' T-shirt stood alongside Chicago's piece What is Feminist Art? "Weren't art and life separated?" the text read, "Like men and women, good and evil, body and mind."
I kept this question in mind in the first downstairs room. The space was smaller, more intimate and slightly cramped. Four walls were covered with A4 autobiographical drawings, expressing the moods and emotions of Chicago during a year of her life. A lot of these diary-type accounts seemed negative and hyper-judgmental; dark holes, wounded trees and swathes of despair in black, blue and ruby red watercolours. It was a sharp contrast to the bold graphic prints on the first floor but it was interesting to see a different side to Chicago. Much of her popular work is so strikingly strong; this softer and more personal side was somewhat easier to interact with, to relate with despite its extremity. Sometimes, the pressure of fighting for what you believe in is draining. I felt that the pictures seemed cathartic, a release of daily pressures and tension. I am no artist myself, but it appeared like a healthy means of expression that I could consider trying out in my own life. A way of clearing a sometimes muddled head.
The final room included work by Emin and Bourgeois and it seemed to bring all the main themes of the exhibition together. Chicago's sensual and erotic side was depicted brilliantly and beautifully through her intricate work Nine Fragments from Delta of Venus (2004) and the "Cat-erotica" pieces were playful and funny, a trait not often associated with feminism. On the last wall hung two nude portraits, one of Emin called Love is What You Want (2011) showing her running away from the viewer in a moment of vibrant spontaneity alongside a portrait of Chicago taken for her 70th birthday, as a triumphant Eve holding up her apple and laughing in a contemporary Garden of Eden. Again, it felt like the two portraits were in dialog with each other, two confident and creative women exposing their own skin. It seemed like Chicago was handing her feminist mantle down to Emin in a proud and confident manner. A celebratory and positive ending.
It was so refreshing to go to an art exhibition as a young woman and a feminist and be instantly included; in a space where women's experience is expressed and celebrated, where their bodies and sexuality are explored honestly and openly. Often with art, I can appreciate it, I can understand it, I can read and research and learn about the Old Masters or the marvels of the Renaissance but I never really truly felt a part of it. My friend had never heard of Judy Chicago before yet we both left feeling like we knew her. And learnt a little bit about ourselves along the way.
Judy Chicago and Louise Bourgeois,Helen Chadwick, Tracey Emin: A Transatlantic dialog is at the Ben Uri Gallery until the 10th of March 2013. For more information, click here.