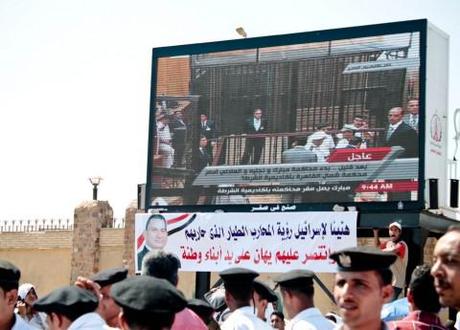 The televised trial of Hosni Mubarak. Photo credit: Maggie Osama, http://www.flickr.com/photos/maggieosama/6006463564/
Amid chaotic scenes inside and outside the courtroom, the judge in the trial of Egypt's former president Hosni Mubarak announced Monday that the trial would be adjourned until September. BBC News reported that Judge Ahmed Rifaat also banned further live television coverage of the trial, and decided to combine the two sets of charges against Mubarak  - of corruption and the murder of protesters – into a single trial.
As on the trial's first day on August 3, Mubarak's second appearance in court Monday was marked by angry scuffles on the street between Mubarak's supporters and opponents, as this video from The Guardian shows. Proceedings inside the building were scarcely less acrimonious, and The Guardian reported earlier that Judge Rifaat was losing his patience with the chaos in the courtroom, something which may have prompted his decision to adjourn the trial. Egyptian reaction to the decision to end the live television coverage has been mixed, to say the least.
To TV or not to TV? The original decision to broadcast the trial live on Egyptian TV was seen as a major concession to pro-democracy campaigners. As Evan Hill wrote for Al Jazeera last week, "Mubarak's trial will be unprecedented – a televised catharsis for millions of Egyptians who took to the streets in January and February united primarily in their hatred of the regime he oversaw for 30 years." Egyptians who saw the broadcast of the trial as a symbol of a new, more open and democratic Egypt are furious that it is moving behind closed doors. Reuters spoke to  a member of the public who had been watching the trial and who called the decision "preposterous." Sherif Mohamed claimed that "The case is necessary for public opinion. Not airing it live means there is a deal with Mubarak." However, Al Jazeera's live blog coverage of the trial charted reaction to the decision on Twitter, and concluded, "Initial anger has subsided into debate over necessity. Some say that Rifaat's order is correct, because it will prevent witnesses from hearing others' testimony, and that journalists, lawyers and victims' families still allowed inside the courtroom will still be able to act as watchdogs."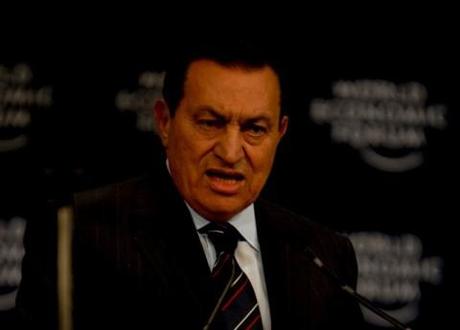 Hosni Mubarak, before the revolution. Photo credit: World Economic Forum
President in a cage. A major aspect of the debate around the trial is the presentation of Mubarak himself. The sight of the apparently frail 83-year-old strapped to a hospital trolley and giving testimony from inside a cage has divided opinion, even among those Egyptians who want to see him brought to justice. "Mubarak trial: humiliation continues" was how The Voice of Russia put it, although Egyptian novelist Alaa al-Aswany wrote in The Daily Beast that the sight of the former leader reduced to such ignominy had symbolic importance. "I think this is a very important moment, to see Mubarak in the cage," he said. "It's a great moment in Egyptian history and the history of the whole region. It's a turning point. From now on, the president will never be the father of the people or the symbol of the country. He's going to be a public servant who works for the people, and when he makes mistakes, or commits crimes, he is going to be brought to justice." However, Hannah Allam, writing in The Miami Herald, explained that even anti-Mubarak Egyptians had mixed feelings about their ex-president lying in a cage on TV. "He's a criminal and he must receive punishment," said one protester who went on to admit, "OK, I felt pity for him. I'm not going to lie. What can I say? Egyptians are too kind-hearted."
The meaning of the trial. Whatever Egyptians' personal feelings about the humiliation of Mubarak, it remains to be seen whether the trial – live on TV or not – will satisfy the demands of the democracy movement in the country. As Richard Spencer explained in The Telegraph, to do so the trial would have to serve both as symbolic retribution for Mubarak's alleged crimes, and as an example of how much progress, if any, Egypt has made as a bastion of human rights and openness. Referring to the acrimony that has accompanied the trial so far, Spencer wrote that "Some will say that the raucousness of events are a welcome relief from the silence of repression. But the loneliness of judges as they weigh such competing demands is a fitting image of the fragility of revolutionary ideals."