Joyfully at Home is a guidebook encouraging young ladies to serve in their parents' home during their single years.

"I want to encourage young women to shift their focus, to turn their hearts towards the home, to be enthusiastic and vibrant, purposeful and driven, meticulous and passionately focused in pursuit of the Lord's will for their time at home.  I want them to grasp the bigger picture:  A vision for the home as a hub of ministry and discipleship, as a training ground for life ahead, as a place where they can bless those nearest and dearest to them, and, as a result, turn that blessing outward towards others in their church and community."
This was a challenging read for me, because quite simply, I did not grow up with this mindset.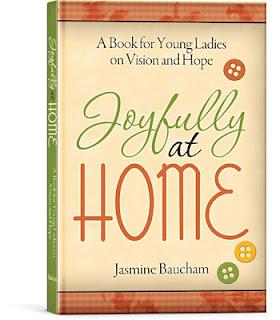 Since I did not have a relationship with Jesus until almost college graduation, my focus was not on serving  God with my  life - at all!  I think back on the time I wasted in between coming to know Christ and meeting my husband-to-be and wish I would have used that time in a more productive, God-honoring manner.
I readily identify with these words:
"Still, where do single women fit into this understanding of mankind?  Though a hierarchy in marriage may seem ordered enough to you, even the most die-hard complementarians often shrug their shoulders when it comes to how unmarried women fit into our understanding of male/female distinctions.  While young men and married men are both trained to be leaders and providers in society, oftentimes, young women are trained in the same pattern as young men, and then told that, once they marry, they are given a different role to occupy."
-and-
"Should we focus our time and energy into building a career and sowing character traits that will align us more and more with the androgynous dream of success and happiness that the culture has laid before us?  Should we train ourselves to be what my dad calls "mean who are biologically capable of having children" during our single years, in the vain hope that the same character qualities that we are sowing in  our single lives won't carry over into matrimony - that once we say "I do," the submissive, gentle and quiet spirit that the Lord so prizes in his daughters (1 Peter 3:1-6) will miraculously manifest itself in a field where it has not been patiently cultivated?"
For many, that "shift" in thought and action can take years to get a handle on.  How awesome it would have been to be prepared for the ministry of Wife and Mother long before actually walking in it!
Author, Jasmine Baucham, a young-unmarried lady who is also a college student herself, does note that this book is not a cookie cutter program for all.  She does ask the reader to consider "stay-at-home daughterhood" as a biblical option to the present day status quo.
She also encourages her readers to:
*  Let God's word challenge your presuppositions *  Find your joy in being God's daughter *  View the home as the hub for ministry and discipleship *  Not become discontented and waste time daydreaming about married life *  Stay joyful *  Put your hope in the Lord *  Use your single years to glorify the Lord *  "Get your house in order" *  Bring ministry opportunities into your home
During this season of "at-home daughterhood", Miss Baucham has received countless comments and questions about her lifestyle.  She has managed to answer them with "dignity and grace" and has included many of them to encourage those who want to follow this path.
In short, this is a book that for many will take some time to process as it does go against the 'status quo'.  It certainly has given me plenty to think about as well!
"When one grasps a vision for what an amazing hub of ministry the home can be - when we understand what a powerhouse of discipleship the family can be - the picture of being trained and sharpened for battle takes on a whole new meaning."
Disclaimer:
I received a copy of this book free of charge in exchange for an honest review. This post written and property of Homeschool Circus and can be found at: www.upatdawnreadytowork.com. If you are reading this from a source other than www.upatdawnreadytowork.com (www.upatdawnreadytowork.blogspot.com) you are reading a scraped copy!