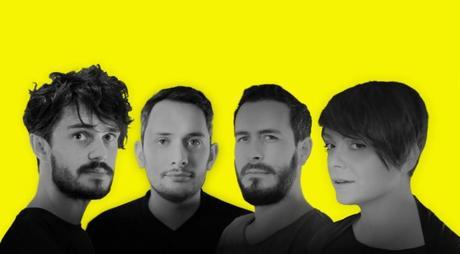 With it's exceptional harmonies and rhythms, Joy Atlas' newest single "Drop Your Sword" is the kind of song that continues to mesmerize with each consecutive listen. The video mirrors the track's minimal aesthetic that places the focus on singer Beccy Owen's unmatched vocal clarity. On the video, the band says:
The video for our third single – 'Drop Your Sword' – was shot in a day in our bassist's living room and we used a single DSLR camera against a green screen. As we didn't have any budget, we needed to make it ourselves but wanted to achieve something that had high production values and fitted the aesthetic of the band… a colourful and charismatic accompaniment to the lightness and understatement of the track. We're really happy with the end result which is mainly down to the  the band's songwriter and keys player Adam, who devised the look and concept of the video alongside teaching himself to compile and edit the footage. We learnt that looking enigmatically into the camera whilst spinning slowly on an office chair is harder than you think. The video's animal imagery and directness echo the song's central themes about overriding our fight-or-flight instinct…. the internal voice that tempts us to yield to our animalistic tendencies by always being on the attack or defensive. Ultimately 'Drop Your Sword' speaks about learning how to be vulnerable again in relationships whilst not losing your own sense of self.
Check out the video above, and be sure to pre-order the track now.