This is the weekend edition of TheMarioBlog and will be updated as needed. The next blog post is Monday, November 16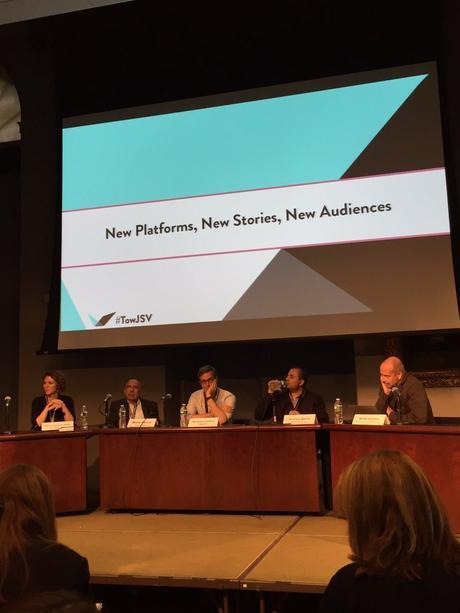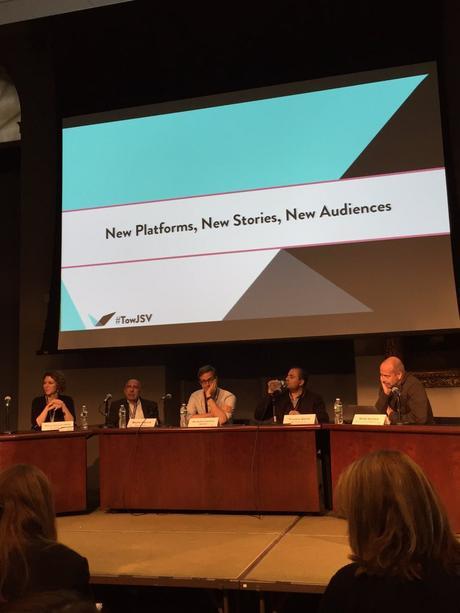 Our panel (from left): Raney Aronson-Rath (Frontline, PBS) Trushar Barot (BBC World Service) Nicholas Carlson (INSIDER) Mario García (García Media) Moderator Mark Hansen (Brown Institute for Media Innovation)
I was honored to be part of one of the panels in this Journalism +Silicon Valley Conference sponsored by the Tow Center for Digital Media at Columbia University's School of Journalism.  There was much to be learned from every session.  Each topic resonated with me as part of my daily conversations with editors around the globe.
In fact, in the audience was my friend and colleague Jens Jurgen Madsen, Digital Editor of Denmark's Berlingske.  This is what he whispered in my ear as the conference came to a close:
"You know, Mario, we sit in our newsrooms and we wonder how The New York Times would do this or that.  And, yet, one of the things I have learned here today is that The Times, and everyone else, has the same doubts, challenges and questions that we do, even if they have much better resources to deal with it all."
Indeed, Jens. The challenges and opportunities for our industry are quite similar for a weekly in the heartland of America or a vibrant smart daily in Copenhagen or in Buenos Aires.
Four takeaways
If I had to deal with three resounding takeaways, they would be:
1. Social media is generating new audiences and traffic for all of us, and so we must create more solid alliances to make sure that we share our content and make our brand visible where the people are.  If in the process we can monetize the alliance, then more power to all.
2. It's video, video and more video as a popular way of telling stories. Yet, not all videos are created equal, and we saw some interesting approaches from the folks at Frontline and Insider.
3. Not that the story has ever stopped being the main event, but now almost all speakers emphasized the need for innovative and creative storytelling technigues.  Not all stories need to be told thorugh a long narrative (although long form journalism is doing well, thank you).
4. The home page is not where users come first. Each article carries the responsibility to bring readers in, hook them to read more and to stay longer.
From Mark Thompson, CEO, The New York Times
Thompson was the keynote speaker for the Conference.  Here are highlights from his informal chat with Emily Bell, director of the Tow Center:
What next for The New York Times?
"Our path forward at The New York Times : a challenge to secure journalistic mission, create the most successful digital content."
"A distinctive tone of voice is key. A lot of the content out there is not worth paying for!"
"If you produce commodity news, that's how it will be treated by your audience."
"Our goal is to double digital revenue by 2020. How to achieve it? We want to
more than double the number of most engaged users, to make the Times an essential daily habit."
"We see our biz as a subscription service first; a pivot around innovation; focus around reader. .....We have to have a special relationship with our readers....The future is how readers relate to our products."

"Every piece of journalism we do must be worth paying for. We must constantly innovate in terms of content/creativity
How about the recent virtual reality experiment?
"The Displaced , our virtual reality app , has become the most successful NYT app launch ever, with more than 1.3 million devices delivered, average time spent 14.7 minutes"
What's the key to future success?
"We have to have a direction in mind, on how to direct users to our products.....The Times has for 164 years ran a good business based on differentiation."
"The battle for making journalistic experience exceptional, distinctive is what's all about.....Invest in good journalism and good journalists."
How about the printed New York Times?
How can a physical printed paper continue to surprise? How do you keep it fresh?
"Physical paper could make sense for a core group of readers, just like printed books"
What's the biggest challenge?
"We want to be a destination and we have the brand and the cloud to be a destination."
"Many apps on that smartphone are going to be news apps, and WE want to be one of those apps"
...and the ultimate challenge?
"How do we get person who read ONE news story, to read a second New York Times story?"
It's all about video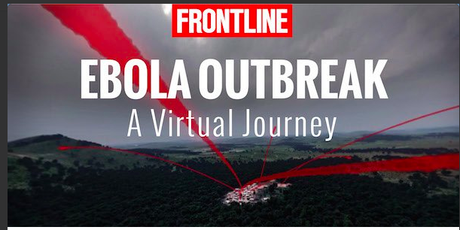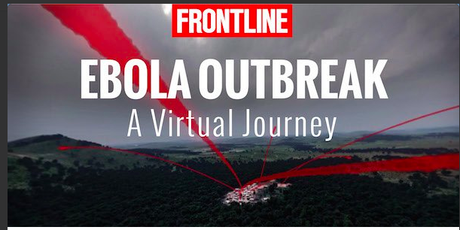 Frontline's Ebola Outbreak: Filmed on 360-degree cameras in West Africa
Various speakers emphasized the importance of videos, especially for those young millennials.
Michael Reckhow, Facebook:
"Video is  big. We are excited by how it can help stories differently."

"With videos: you wish to allow for a little lean back space. Don't start right off."
(Various speakers referred to how users sometimes see a video, click on it, but still don't have their earphones on, so go audio optional the first few seconds).
Howard Morgan, media venture capitalist, First Round Capital:
"Most of the money is going in to video and VR."
Raney Aronson-Rath, Frontline, PBS 
"The world is going increasingly video. If you're a writer, think in film. If you're visual, think about words"
"You have 10 seconds to grab their attention, so  constantly experiment/iterate, it's not short form it's "right" form ."

Nicholas Carson, Insider
80% of people who watch videos on mobile do so w/o the sound 
(Several of the videos shown during our panel had headlines over them to advance the story)

Use your phones to tell stories all the time - get used to it.
The two most memorable quotes of the conference for me---think about them!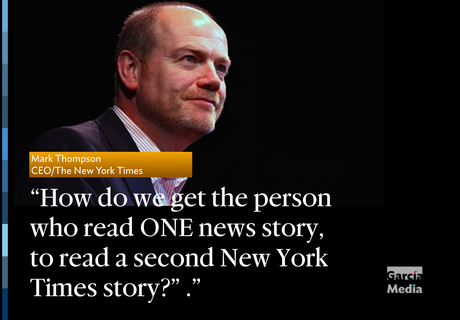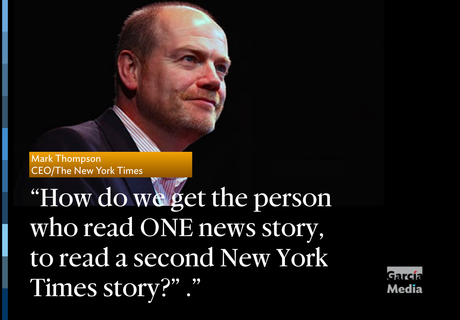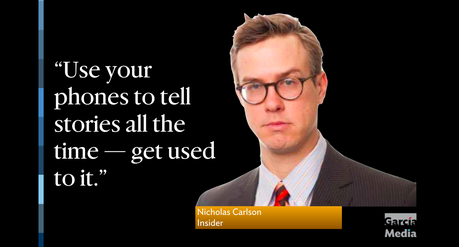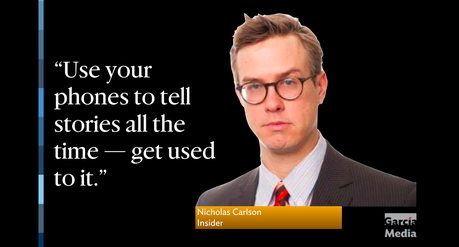 For more information

http://towcenter.org/fall-2015-conference-journalism-silicon-valley/">http://For more information: http://towcenter.org/fall-2015-conference-journalism-silicon-valley/
TheMarioBlog post # 2050
Please enable JavaScript to view the comments powered by Disqus. comments powered by
Disqus