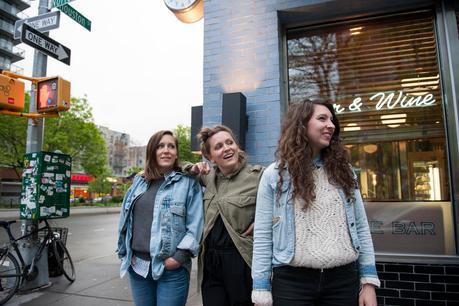 Photos by Makena Cummings
Joseph played a sold out show at Mercury Lounge earlier this week — the Portland-based sister trio made quite the impact, previewing songs from a new record set to be released in August. Nashville-based artist Liza Anne opened the show with her gorgeous, melancholic songs, delivering lyrics that were deeply personal and resonant. There's something immensely special about an artist bearing her soul in front of a crowd of strangers, and Liza Anne did it with grace and a bit of humor.
Joseph then took the stage and harmonized their hearts out, giving fans a set that was simply breathtaking. The trio writes infinitely relatable, gorgeous music, expressing emotions and situations with beautifully envisioned lyricism. I left feeling a sense of catharsis, both from their original material and a heartbreaking cover of Bonnie Raitt's "I Can't Make You Love Me". I absolutely can't wait for their upcoming album — the new songs they performed were incredible! Definitely catch this band when you have the chance.
Joseph





















Liza Anne