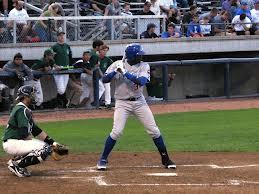 Via USAToday:   "With Daytona leading 9-7, Soler slid into second base and got tangled up with the second baseman during a double play. Soler was upset that he was spiked during the play and the two exchanged words. Benches cleared, but no punches thrown.  It was after the play when Soler returned to the dugout, grabbed a bat and challenged the Threshers dugout to a fight."
Soler is the stud Cuban prospect that the Cubs signed to a 9 year, $30 million dollar contract last year and word on the street is this kid is legit.  He's only 20 and had a solid spring training with the big league club.  This incident is probably going to leave a stain for a while not to mention a suspension.  I'm willing to give this kid a pass this time since he's only been in the country less than a year and is most likely still adjusting but he still needs to get it together.  threatening an entire team with a bat AFTER a bench clearing isn't going to get you to the big leagues.
Plus, last time someone got crazy like this, a big time Red Sox prospect pretty much killed his career.
Or maybe he's got a chance, since Delmon Young seemed to find success after this incident!