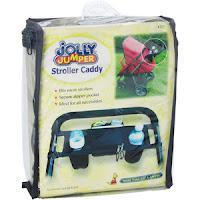 http://www.sears.ca/product/jolly-jumper-stroller-caddy/632-000120279-727 
As previously mentioned in my Quinny Buzz Stroller Review... Our stroller lacks cup holders. I found this great Stroller Caddy made by Jolly Jumper at Sears so I purchased it for around $12. As far as I know this product only comes in black but that works great for our stroller because the handle bar padding is black as well.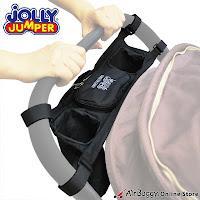 The cup holders of the Jolly Jumper Stroller Caddy are great for holding many different sizes of cups although they probably wont accommodate a Big Gulp Cup LOL. The Stroller Caddy also has a great zip pouch in the center to store keys, wallet or other items you might need close by. We store bus tickets, baby sunglasses and a 3-6 month size sleeper in ours because I like to have a spare outfit in case I just take my diaper clutch and not our full size diaper bag. In addition to the cup holders and the zip pouch the Jolly Jumper Stroller Caddy has 3 other pouches, I use them to store my Blackberry and a tiny bottle of hand sanitizer.
The Jolly Jumper Stroller caddy is a fabulous accessory to add additional easy access storage. It is easy to install with for Velcro straps and it stays in place exactly where you want it. It is a great solution for strollers with out built in cup holders.