I have been wearing peplum tops and dresses off and on for a few years now but for some reason, I kind of lost the love for peplum. There is no real rhyme nor reason, but as soon as I saw this top from Simply Be, I would once again be joining the Peplum Party.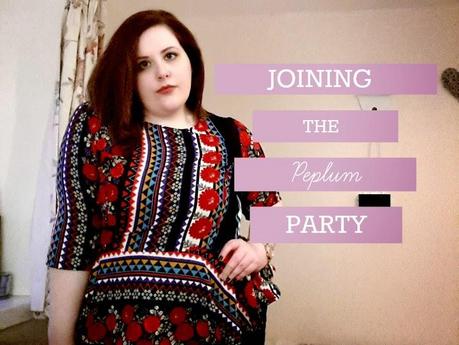 I love the fact that this is fitted at the top and emphasizes your waist and then flares out slightly and skims over your hips. let's face it, clingy + my hips = bad times.
When I put the top on, I was worried it would be a little bit neat on me because it felt a little bit restrictive at the top - bare with it! I promise it won't look or feel tight once it's properly on.
The sleeve length is just so flattering - or at least for me they are because I have big bingo wings that hang lower than my double chin - LOL! This top hides all of those little lumps and bumps without making me look mumsy or frumpy.
Normally, I stick to monochrome - Black, White & Grey are my favorite colours - sometimes Navy if I'm pushing the boundaries of fashion ever so slightly but what drew me to this top was the bold pattern which was completely unlike me.
It has a black background and is acentuated with lots of colours from reds to mustard and even turquoise. I figured this would be good as an 'all rounder' that is light enough for Spring/Summer, yet bold enough for Autumn/Winter.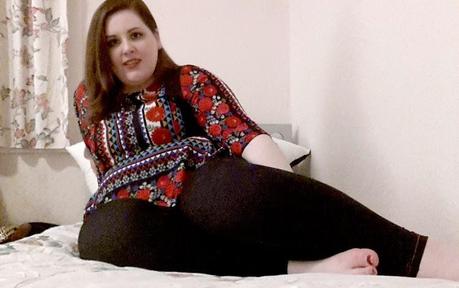 In the lighter months (March-September) I will probably wear this with jeans for a daytime look (I'm wearing these ones from Simply Be - they're a god send if you're like me and can never find jeans that don't give you huge camel toe! - sorry TMI?)  and in the evening might team it with a skort (yes, I am into the skort trend - slightly!)
In the colder, darker months (October-February) I would wear this with black peg leg trousers during the day and a black midi pencil skirt with sky scraper heels at night. 
Accessories would be kept to a minimum with this because I want all of the attention to be on the top without it being too busy so maybe a gold chain and watch or similar would work best.
I freaking love Simply Be! Also - for all you non overly curvy girls - Simply Be have standard sizes on their website too so take a wee look.
How would you wear this?
xxxxxxx