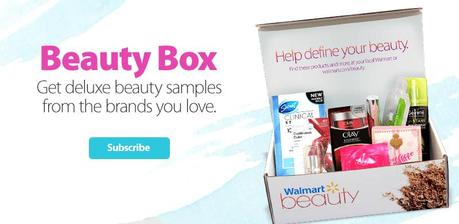 Subscribe Now Just $5 / 4X's a Year
Hey Subscription Box Lovers,
I wanted to make sure that you all knew that WALMART has jumped on the subscription box wagon with the new #WalmartBeauty box!!!
That's right!!! Even they have noticed how much free advertising that other companies sending consumers products to test are getting.
Now you can subscribe to the Box for FREE and only pay the Flat Rate Shipping of $5. Walmart will send out surveys after you receive the products and ask that you give your honest feedback.
How It Works
I signed up 5 minutes ago and was emailed this,
"You'll receive an email notification when your box ships, and you should receive it within 5-7 days after that."
"You will receive a new box approximately every 90 days, to coincide with your seasonal beauty needs. For your future boxes, your credit card will only be charged when your next box ships."
Still only  being charged $5 for Shipping there after  with each box ($20/year). Receive products we can use for each of the seasons (Spring, Summer, Fall, and Winter). 
I thought this was great opportunity and had to share immediately.
Click Here to get your first box from #WalmartBeauty
Who else is Excited??????
Disclosure: PeacockReview.com did not receive any compensation for this post. I subscribed myself and wanted to share this great deal with others. There are no affiliate links that would help support PeacockReview.com.